Nearly 1,000 reportedly treated for breathing problems after ISIS torches sulphur plant near Mosul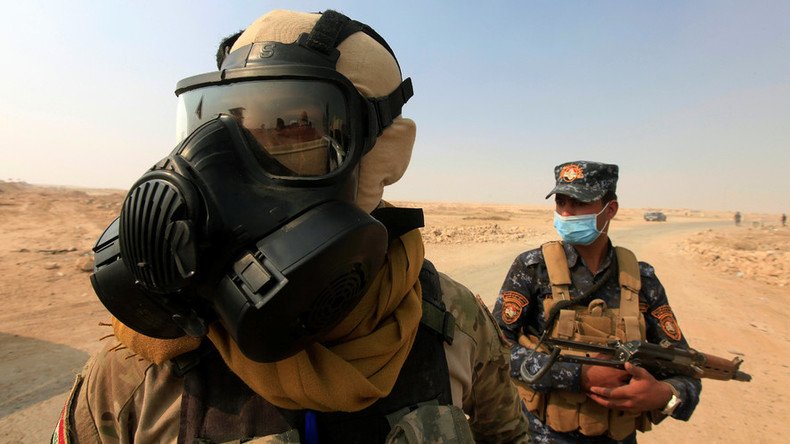 Nearly 1,000 people had to be treated for breathing problems after Islamic State terrorists set a sulphur plant ablaze in Mishraq, south of the Iraqi city of Mosul, Reuters reported, citing hospital sources.
Medics at the hospital in Qayyara, which is located near Mosul, said that no deaths have been reported as a result of the blaze, but, according to an Iraqi official, two villagers close to the factory died after coming in contact with the toxic substance.
Iraqi commander Qusay Hamid Kadhem told AFP that Islamic State (IS, formerly ISIS/ISIL) had set the sulphur plant near Mosul ablaze two days ago, causing the death of two civilians from the nearby villages.
On Friday, a Reuters photographer reported seeing plumes of smoke coming from the plant filling the air with toxic gasses. Breathing in sulfur dioxide affects the lungs, causing severe breathing difficulties, according to the Agency for Toxic Substances and Disease Registry (ATSDR.)
US military officials confirmed on Saturday that winds had carried in fumes from the burning sulphur plant, forcing US forces at Qayyarah West Airfield near Mosul to use protective masks.
"The winds have actually shifted south, so, as a precautionary measure, the troops at Qayyara West have donned their personal protective equipment – continuing their operations at this point in time," an official told Reuters, speaking on condition of anonymity.
There are about 5,000 US troops in Iraq, and the Qayyarah West Airfield, formerly known as Saddam Airbase, is the key strategic launch-pad for sorties supporting the Iraqi-led operations to retake Mosul from Islamic State.
"Coalition forces take the risk of bio hazards and associated substances seriously into consideration as part of our on-going force protection measures and are prepared to respond to such a contingency should that need arise," Colonel John Dorrian, a coalition spokesperson, said in a statement to Rudaw.
"This is yet another act that demonstrates Da'esh's (pejorative Arabic acronym for IS) blatant disregard for the local population," he added.
Air samples from Qayyara West have been sent to the US Defense Threat Reduction Agency (DTRA) for analysis.
Major Christopher K. Parker, the coalition's media operations chief at Q-West, told the publication that they are closely monitoring the situation.
"Service members continue to have their protective masks readily available, as we have here for weeks. Some have chosen to wear the masks today for personal comfort, but the protective posture has not changed," he said.
Officials have estimated that it may take two to three days to put out the fire.
You can share this story on social media: