ISIS fighters execute at least 284 Mosul civilians, children among them – report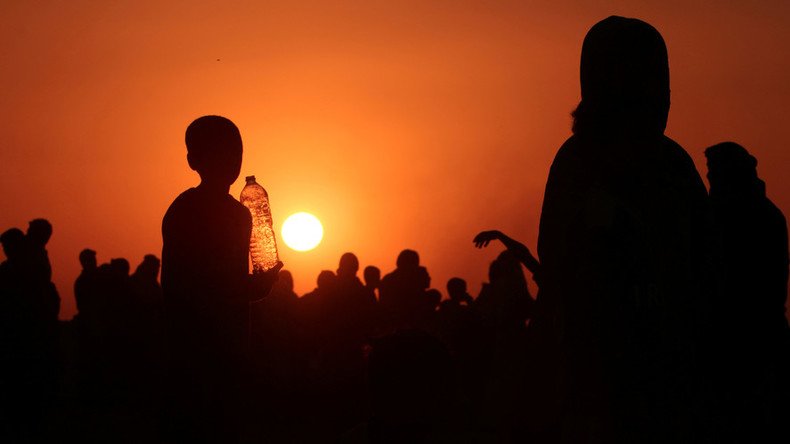 Islamic State militants have allegedly executed at least 284 men and boys in the Iraqi city of Mosul and nearby villages. Jihadists, who had used them as human shields, dumped the victims' bodies in a mass grave, according to a report.
The victims, children among them, were all shot dead on Thursday and Friday, an Iraqi intelligence source, who asked to remain anonymous, told CNN.
Islamic State (IS, formerly ISIS/ISIL) seized Mosul in June of 2014, when it was Iraq's second-largest city. The terrorist group's leader then turned it into a major military stronghold, and it is believed that between 4,000 and 8,000 IS militants are currently entrenched there, according to Reuters. An estimated 1.5 million people remain in the city.
On Friday, Islamic State militants took some 550 families from the villages around Mosul, holding them as human shields close to jihadist positions, Ravina Shamdasani, a spokeswoman for the UN human rights office said. Citing "corroborated information," she said the office was also investigating reports that they had killed 40 civilians in one village, Reuters reported.
The battle for Mosul, the jihadists' last major stronghold in Iraq, began on Sunday, and has since gained momentum. The Iraqi military and US-led coalition said that the operation to retake the strategically important city may take weeks or even months.
Earlier this week, the International Organization for Migration (IOM) sounded the alarm amid the carnage surrounding the new offensive, warning that IS militants may unleash chemical attacks and use tens of thousands as human shields.
"Tens of thousands of people may be forcibly expelled, they will be getting trapped between fighting lines under siege, they may even be held as human shields," IOM's chief of mission for Iraq, Thomas Weiss, told Reuters.
The UN says the aftermath of the Mosul campaign could require the "largest and most complex" humanitarian relief operation in the world, as up to one million people may be forced from their homes.
IS attack on Kirkuk
With Iraqi and Kurdish forces pushing to seize territory around Mosul, the jihadists launched an attack on government buildings in the Iraqi city of Kirkuk. On Friday, Islamic State militants reportedly entered houses and mosques in the city, which is located some 174 kilometers (108 miles) from Mosul, and took civilians as hostages. They also broke into a kindergarten building, according to a Rudaw news agency report citing the city's police chief.
A curfew was reportedly imposed amid ongoing clashes on Friday. Jihadist terrorists entered Kirkuk's Asfra Mafqudin quarter in two cars at dawn and knocked on doors, telling people they were "fighters from Islamic State," according to one eyewitness, who said that the locals were forced to take up arms to defend themselves.
At least 12 IS militants were killed by security and police forces in Kirkuk on Friday, Rudaw reported.
The city, which had been home to about half a million people before the outbreak of hostilities, has taken in some 700,000 displaced people from the country's central and southern provinces since Islamic State took control of one-third of Iraq in mid-2014, according to Rudaw.
The oil-rich city is claimed by both the Iraqi government and the Kurds in the region. Kurdish forces assumed full control of the city in the summer of 2014, as the Iraqi army crumbled before an IS advance.
You can share this story on social media: