ISIS fighters enter Kirkuk mosques, kindergarten, take civilians hostage – report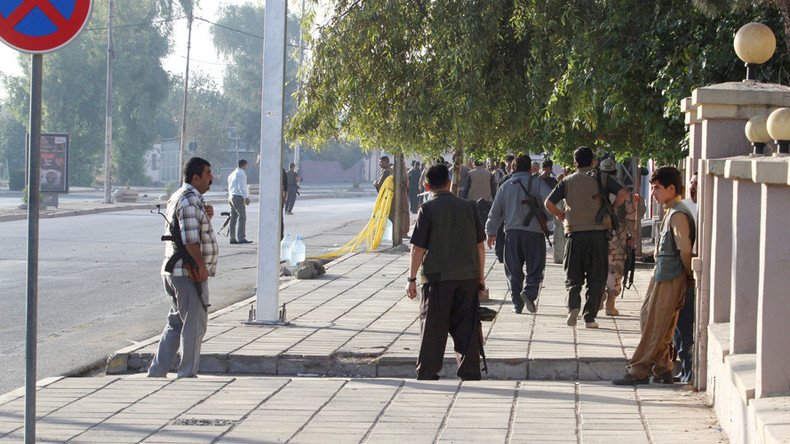 Islamic State militants have reportedly entered houses and mosques in Kurkuk, Iraq, and taken civilians as hostages. They have also broken into a kindergarten building, according to a Rudaw news agency report citing the city's police chief.
This latest intrusion comes just hours after Islamic State (IS, formerly ISIS/ISIL) "sleeper cells" launched an attack on government buildings in the city that sparked clashes with security forces, and also as Iraqi forces continue their offensive on the IS stronghold of Mosul.
READ MORE: ISIS 'sleeper cells' attack Kurdish-controlled Kirkuk, sparking clashes & curfew – reports
"It was expected that ISIS sleeper cells would make a move one day in Kirkuk now that the Mosul offensive has started and they want to boost their own morale this way," Kirkuk Governor Najmaldin Karim told Rudaw earlier on Friday.
"Some of [the militants] have hidden themselves inside mosques and tall buildings and try to shoot as snipers, but our forces are in control and in places where escalations were feared it was all controlled. Strong forces combined of security, police, and anti-terrorism are all inside Kirkuk today," he said.
"They were sleeper cells...many women and children fled to Kirkuk as refugees and it is possible that some militants had come with them," Kiruk added, referring to the attackers.
The city's police chief and governor have called on residents to stay in their homes until the situation is under control.
The unrest has so far led to the deaths of at least 28 people – six policemen, 12 militants, and 16 power station workers, according to reports from Rudaw and AFP. The workers were killed in the nearby town of Dibis, located 55 kilometers (34 miles) from Kirkuk.
"Three suicide bombers attacked the power plant at around 6:00 am (03:00 UTC), killing 12 Iraqi administrators and engineers and four Iranian technicians," Dibis Mayor Abdullah Nureddin al-Salehi al-Salehi told AFP.
However, Kirkuk's governor reported the station had been attacked by four militants, of whom one blew himself up and three were killed. The station is now under the control of Peshmerga Kurds.
Kirkuk is located 174 kilometers (108 miles) from Mosul.
The city has accepted some 700,000 displaced people from the country's central and southern provinces since Islamic State took control of one-third of Iraq in mid-2014, according to Rudaw. It had been home to about half a million people before the outbreak of hostilities.
The oil-rich city is claimed by both the Iraqi government and Kurds in the region. Kurdish forces assumed full control of the city in the summer of 2014, as the Iraqi army crumbled before an IS advance.
You can share this story on social media: