ISIS 'sleeper cells' attack Kurdish-controlled Kirkuk, sparking clashes & curfew – reports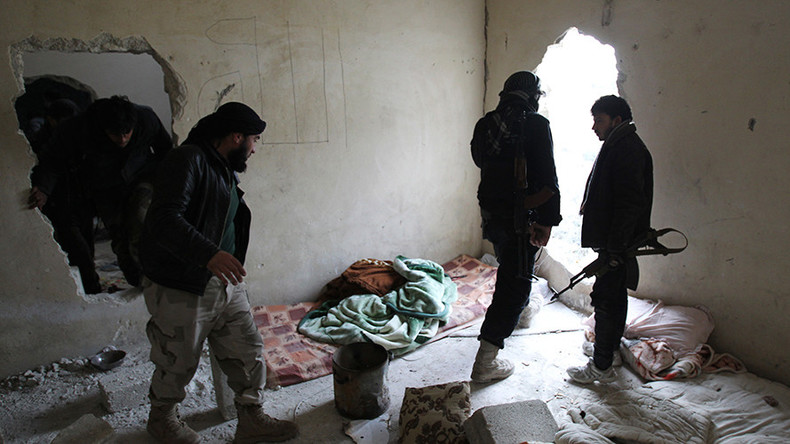 Islamic State militants have launched an attack against government buildings in the Iraqi city of Kirkuk. A curfew has reportedly been imposed amid ongoing clashes, and casualties have been reported.
Police told Rudaw that several Islamic State (IS, formerly ISIS/ISIL) militants launched an attack against the buildings in the early hours of Friday.
Clashes between militants and security forces ensued, and at least three car bombs were detonated.
At least six IS fighters were killed in the clashes.
Among the attacked buildings was a security building and a former police station, which the militants occupied for a few hours before they were driven out by special anti-terrorism forces.
However, Kirkuk Governor Najmadin Karim told Rudaw that militants have not seized any government buildings.
"The militants were not able to take any government building or even enter them," he said, noting that "the security forces brought it all under control."
A report on social media referred to the militants as suicide bombers, saying they were wandering the streets dressed in police uniforms. The attackers reportedly come from "sleeper cells" that sprung up into action from within the city.
A grainy photo posted on Twitter appears to show some of the fighters on the street.
Clashes are reportedly ongoing, and multiple blasts have been heard. Casualties have been reported.
Karim has asked people to remain inside their homes, and for "even those who carry arms for defense not to come to the streets so that the security forces can do their job."
That call was echoed by Kirkuk police chief Sarhad Qadir, who has asked residents of the city to "stay indoors until the situation is under control."
Many of those living in the northern city of Kirkuk have previously fled IS from other areas of Iraq. The city has accepted some 700,000 displaced people from the country's central and southern provinces since IS took control of one-third of Iraq in mid-2014, according to Rudaw.
Some reports see the attack on the city, controlled by Kurdish forces since 2014, as a retaliation by IS terrorists for the Kurdish Peshmerga role in the ongoing Iraqi offensive on Mosul, considered the biggest IS stronghold in the country.
Elite Iraqi special forces joined the fight for the city on Thursday, launching a pre-dawn assault on Bartella, an IS-held town to the east of Mosul.
Iraqi Kurdish forces announced a simultaneous attack, with Peshmerga fighters descending from positions on the mountains northeast of Mosul and charging toward the front line, AP reported.
Despite heavy resistance from IS fighters who unleashed at least nine suicide car and truck bombs against the soldiers – eight of which were destroyed before reaching their targets – Bartella was successfully retaken by the troops on Thursday, Lt. Gen. Talib Shaghati told a news conference.
The retaking of Bartella was seen as key for Iraqi troops as they advance on Mosul, with Maj. Gen. Fadhil Barwari saying ahead of the seizure that: "After we break them in Bartella, everywhere else, they will crumble."
The second-largest city in Iraq, Mosul was seized by IS militants in summer 2014. An estimated 1.5 million people are believed to have remained in the city, though the UN has warned that as many as one million people could flee in the coming days.
You can share this story on social media: