Turkey takes part in advance on Mosul despite Iraq opposition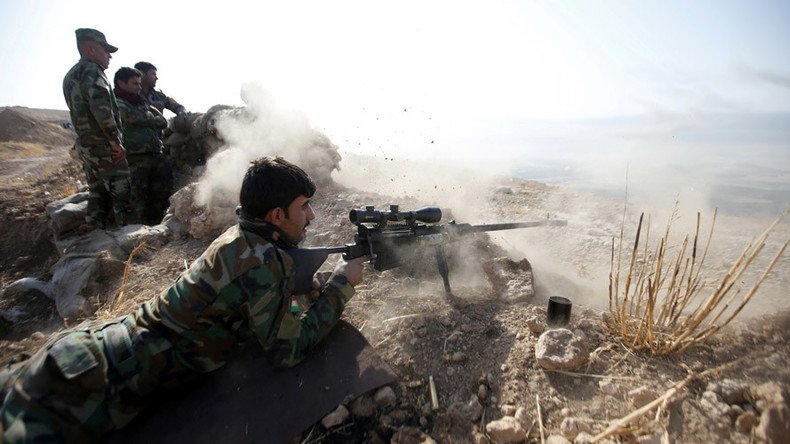 Turkish artillery and tanks have aided Kurdish fighters in advance on the Islamic State stronghold Mosul, according to the Turkish PM. Baghdad has repeatedly called on Ankara to refrain from anti-ISIS operation in the city.
Artillery and tanks of the Turkish army have shelled positions of Islamic State (IS, formerly ISIS/ISIL) near the jihadists' key city of Mosul. According to the Turkish Prime Minister Binali Yildirim the military action followed a request by the Kurdish Peshmerga forces.
"The Peshmerga have mobilized to cleanse the Bashiqa region from Daesh [ISIL]. They asked for help from our soldiers at the Bashiqa base. So we are helping the tanks with our artillery there," Bildrim, said as quoted by the Anadolu news agency.
Mosul, Iraq's second-largest city and the self-proclaimed capital of Islamic State in Iraq, was captured by the Jihadists back in 2014. On October 17, the Iraqi army and various local militias started a major military offensive to regain the city. The operation involves some 30,000 soldiers and militiamen and is backed by the US-led international coalition.
The Turkish involvement comes at a tense time, with Baghdad saying it does not want any ground support from Turkish forces. On Saturday, US Defense Secretary Ashton Carter tried to persuade Iraqi Prime Minister Haider Abadi to let Ankara play its part in the liberation of Mosul, but received a negative response.
"I know that the Turks want to participate, we tell them thank you, this is something the Iraqis will handle and the Iraqis will liberate Mosul and the rest of the territories," Abadi said, as quoted by AP.
In case any help is needed "we will ask for it from Turkey or from other regional countries," Abadi added.
The statement by the Prime Minister is the latest in the lengthy row between Ankara and Baghdad over Mosul operation. On October 10, Abadi rejected any role for Turkish forces in the offensive on Mosul. "Turkish forces will not be allowed to participate in the liberation of Mosul under any circumstances," he said.
However, Mosul is not the only point of discontent between Iraq and Turkey. Baghdad has also repeatedly called on Ankara to withdraw its troops located in the Bashiqa camp near Mosul.
Turkey officially maintains some 25 tanks there as well as 150 troops and a staff of "military advisors" estimated to reach some 2,000.
The military presence (once subjected to a mutual agreement) has been increasingly labeled by the Iraqi government as a violation of "sovereignty."
On October 5, the majority of Iraqi MPs spoke out against the Turkish parliament's decision to prolong the stationing of the troops on Iraqi soil, approved two days earlier.
"The Turkish insistence on their presence inside Iraqi territories has no justification," Abadi said, reacting to the decision by the Turkish parliament.
You can share this story on social media: