ExoMars probe to touch down on Mars, paving way for future landings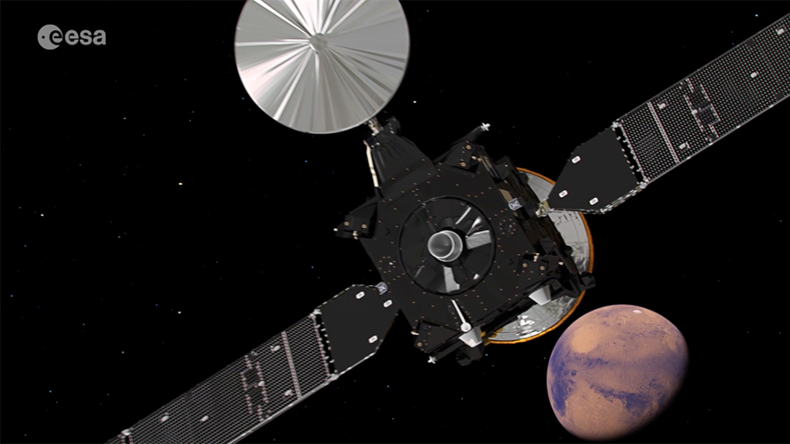 Today is a big day for space enthusiasts around the world, as an EU-Russian ExoMars mission is set to touch down on Mars after seven months of space travel, while two Russian cosmonauts and an American astronaut are to set off on a new expedition to ISS.
The Schiaparelli lander is scheduled to enter Mars' atmosphere at 2:42 pm GMT after ejecting from its mothership, the Trace Gas Orbiter. It should touch down on the red planet's surface six minutes later, at 2:48 pm GMT, according to the European Space Agency's timetable.
RT will livestream the spectacular event as it's followed here on Earth.
Before parting with the lander, the Trace Gas Orbiter will slow down in preparation for entering orbit around Mars.
"Today is a very important first step in this joint program where we put the Schiaparelli lander down on a surface to prove we have the technologies to get down and to operate safely. It will be the first time Europe manages that. And also to put Trace Gas Orbiter into orbit safely around Mars because that's a very important part of the scientific mission looking for life on the red planet," Mark McCaughrean, ESA's Senior Scientific Advisor, told RT an in interview.
The ExoMars mission is a two-stage program being conducted jointly by the European Space Agency and Russia's Roscosmos. In March of this year, a Proton-M rocket successfully blast off from Baikonur space center carrying the ExoMars spacecraft, marking the beginning of the long-term project.
READ MORE: Russian space corp unveils project for reusable 'shuttle' between ISS and moon
With Schiaparelli's touchdown, the scientists aim to pave the way for a smooth landing for an EAS Mars Rover on a Russian platform in 2020. For now, their main goal is to check all the steps involved in the descent of the Schiaparelli spacecraft onto Mars, which will include taking atmospheric measurements during the landing.
Although, the Schiaparelli lander has limited research capabilities, it will be reaching the red planet during the so-called "dust season," which is of particular interest to scientists, as the data to be collected may shed light on the peculiarities of Mars' atmosphere.
"We are doing it at a time which is very interesting. It's when Mars is in its, what we call, a dust season, so lots of dust gets picked up from the surface of the planet into the atmosphere, sometimes it completely covers the entire planet. And it's very important that we understand the properties of Mars' atmosphere during those times if we are going to fly future missions there," said McCaughrean.
The main task of the Trace Gas Orbiter will be looking for gases, in particular, for methane, that could point to geological or, more importantly, biological activity on the planet – in other words, signal life.
"Methane… comes more or less from two places. It comes from geology deep underground as the liquid warm water changing rocks but the really exciting possibility – it's coming from life, from ancient bugs deep under the surface from billions of years in the past but still alive today making methane," said the researcher.
In 2020, the rover will dig down as much as two meters into the planet's surface to look for signs of life and study ice distribution in the soil.
While it is too soon to plan a crewed mission to Mars, the scientists are laying the foundation for such a venture with their present work, McCaughrean said, adding that the task of landing a manned spacecraft is "a huge impetus of the moment."
"If we can prove the technology in the missions we are flying today, they are robotic missions, and maybe there is a future for us to get there in within the next 20-30 years," he said.
READ MORE: First ExoMars image excites Red Planet scientists (PHOTOS)

While journeys to Mars may still seem a long way off, regular missions to the Moon have become almost commonplace.
Meanwhile, the new expedition will see two Russian cosmonauts, Sergey Ryzhikov and Andrey Borisenko, and one NASA astronaut, Robert Shane Kimbroughare, transported to the International Space Station in a Soyuz MC-02 spacecraft. They should dock at 9:59 am GMT on October 21.
The Russian cosmonauts will perform over 50 experiments, which will include growing a pepper in zero gravity, according to Borisenko.
You can share this story on social media: