EU-Russia ExoMars mission all set to enter planetary orbit in October – Roscosmos head
Published time: 30 Sep, 2016 22:58
Edited time: 1 Oct, 2016 18:01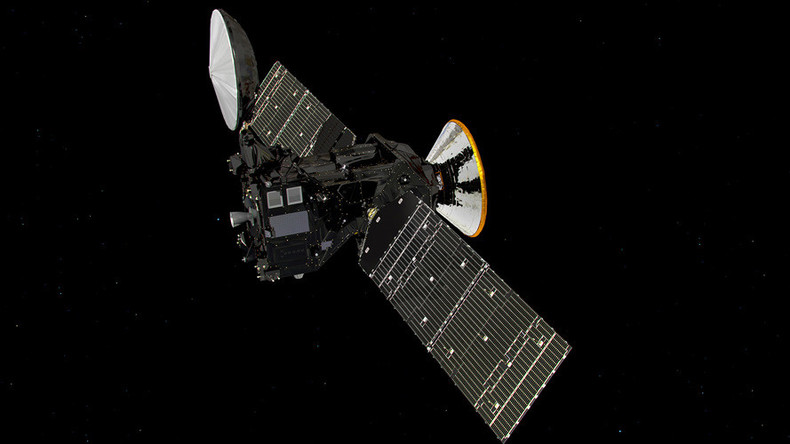 A joint EU-Russia project designed to search for signs of past and present life on Mars is on the verge of beginning a new stage of its mission. It will entering Mars' orbit to map the sources of methane on the red planet, the head of Russia's space agency said.
"Very soon, on October 19 – we are waiting for this along with the European Space Agency, everything is going according to plan – ExoMars will enter Mars orbit and start exploring Mars' surface, after that the landing module will descend," Roscosmos head Igor Komarov said during a meeting with Russian President Vladimir Putin on Friday.
The ExoMars Trace Gas Orbiter launched on March 14 is set to take the Schiaparelli lander to Mars. It will then proceed to look for sources of methane and other gases on the planet while the lander will work on landing techniques for another mission.
"We will test the landing technology and the instruments that will explore the surface of Mars… The instruments will examine Mars' atmosphere from the orbit and send the results to scientists," Komarov said.
The landing is to take place on the Meridiani Planum during the season of dust storms which will provide a unique opportunity to study a dust-rich environment. On the surface, Schiaparelli will measure the wind speed and its direction, humidity, pressure and temperature and collect other information.
"In 2020 we are planning to launch a take-off and landing module. This stage of the Mars development programme will allow us to land the module, take samples, practice landing techniques, send back useful load and soil samples. These are very important steps for a scientific research," Komarov said of the second mission scheduled for July 2020.
ExoMars is currently laying the groundwork for the 2020 mission, which will see a Mars rover drill down into the planet's surface to search for evidence of life.
The project has already made significant achievements. In April, scientists received the first ExoMars images of Mars which caused much excitement in the scientific community. The quality of the shots was high enough for scientists to be sure that ExoMars would manage to produce similar high-resolution pictures when on Mars.
Some €850 million (nearly $956 million) was allocated to the two-part project by the ESA back in 2009. Initially Russia was supposed only to provide the European agency with rocket carriers, however, Moscow insisted on equal partnership.