'Only China can help Philippines': Duterte turns to Beijing as rift with US widens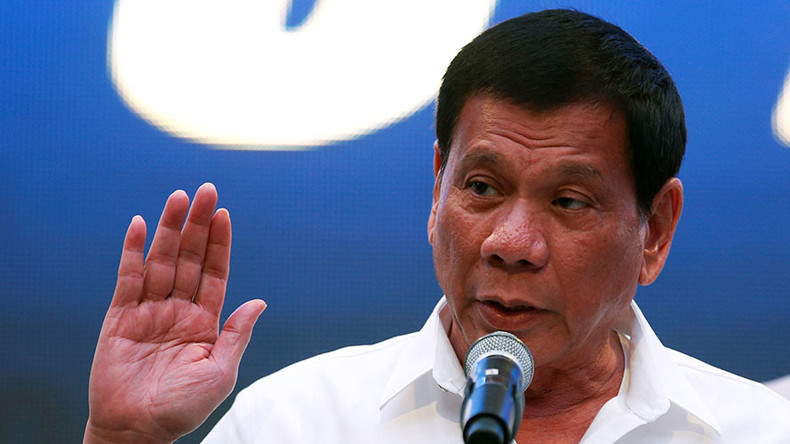 Historically one of the staunchest US allies, the Philippines is pivoting to China, as President Rodrigo Duterte prepares for his first state visit to Beijing, and has proposed not just an economic, but a military partnership with the country's giant neighbor.
READ MORE: Duterte snubs Washington, looks forward to historic China visit
"My grandfather is Chinese. It's only China that can help us," Duterte, who was elected in June, told Chinese state news agency Xinhua before embarking on a four-day trip that begins Tuesday.

"All that I would need to do is just to talk and get a firm handshake from the officials and say that we are Filipinos and we are ready to cooperate with you, to help us in building our economy and building our country."
Duterte said that the Philippines, whose GDP per capita has rapidly fallen behind that of its eastern neighbor since the turn of millennium, said that he had big infrastructure plans for his homeland, that couldn't be realized "for lack of the capital stock."

"If we can have the things you have given to other countries by the way of assistance, we'd also like to be a part of it and to be a part of the greater plans of China about the whole of Asia, particularly Southeast Asia," said the 71-year-old leader.

Duterte also promised to avoid inflaming the ongoing dispute about ownership of the South China Sea, over which both Beijing and Manila have a claim.

"There is no sense in going to war. There is no sense fighting over a body of water," said Duterte of the lucrative shipping route, which could also become a major source of hydrocarbons. "It is better to talk than war. We want to talk about friendship, we want to talk about cooperation, and most of all, we want to talk about business. War would lead us to nowhere."

In a pointed remark, the Filipino leader said that any negotiations would take place without mediators hostile to China – presumably Japan and the US. Washington has realigned its own geopolitical strategy to confront Beijing's growing regional might.
READ MORE: 'About time we change rules': Philippines' Duterte vows to chart independent foreign policy
"We are not interested in allowing another country to talk. I just want to talk to China," said Duterte.

Duterte has announced that the country would no longer stage joint war games with the US, the country that has several bases inside the country, and supplies almost all of its military equipment.

"I have given enough time for the Americans to play with the Filipino soldiers," Duterte told Hong Kong-based Phoenix Television. "This will be the last. It has been programmed. I do not want my soldiers to be humiliated."
Instead, he told the TV station he was open to drills alongside Russian and Chinese troops.

Since his election, Duterte has been engaged in a war of words with Washington focused largely on his hardline tactics in combating drug crime in the Philippines, which the US say violate human rights. He even called the US President Barack Obama a "son of a whore" when speaking to the media, but later downplayed the comment, saying it was not meant to be a personal insult.

Duterte has already indicated that he was willing to turn to China if the West's attitude toward his government would not change. During a speech in Brunei, Duterte said he was not "angry" with the US, the EU and the United Nations for challenging his approach, but in his interview he contrasted their attitude to that of Beijing's.

"Some other countries know we are short of money, but instead of helping us, all they had to do was just to criticize. China never criticizes. They help us quietly. And I said that's why it's part of the sincerity of the people," Duterte told Xinhua.
READ MORE: 'Do not treat us like a doormat, you'll be sorry for it' – Philippines President Duterte to US
You can share this story on social media: