Duterte the destroyer: Games modeled on Philippines President let you wage own war on drugs (VIDEOS)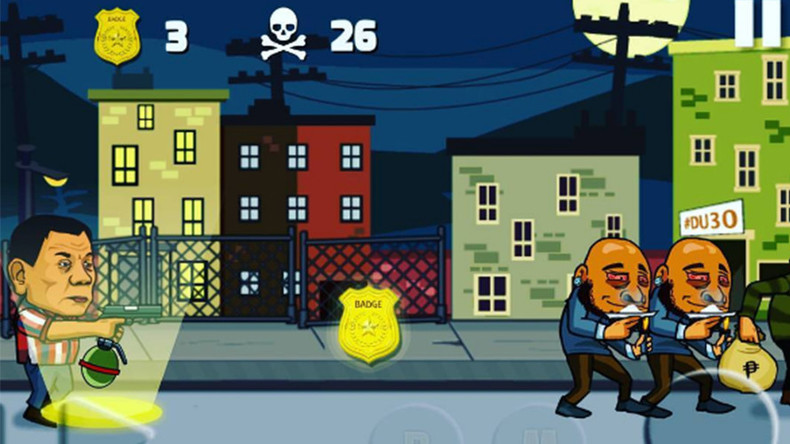 You can now virtually participate in President Rodrigo Duterte's "war on drugs" by zapping drug addicts from the safety of your smartphone.
'Duterte Fighting Crime 2' by Taytay Gaming is the leading version of a mobile app that allows users to shoot and kill red-eyed drug addicts, bandit robbers and other criminals.
The latest edition of the app has the added feature of characters representing Philippine National Police Chief 'Bato' as well as Senator Miriam Santiago, who you can enlist to help fend off criminals.
READ MORE: Rape, Viagra, Obama & Hitler: Philippines President Rodrigo Duterte's craziest quotes
The game has garnered over 2 million downloads across the Appstore and Googleplay.
However, it is not the only Duterte-themed crime fighting app in the business. Here are four others centered on the Philippine president:
1. 'Duterte Drug Bust Fight Crime'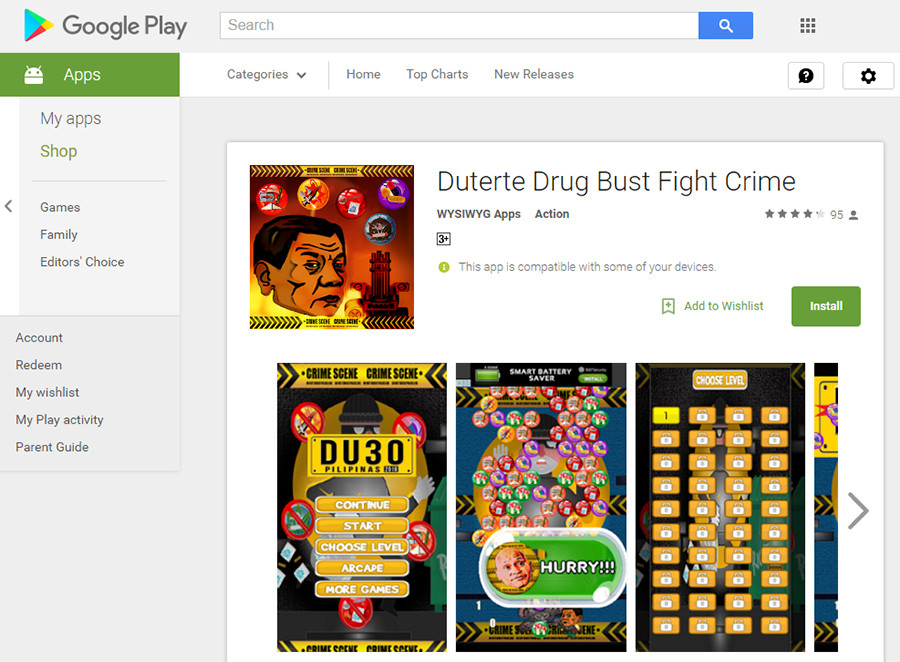 "Help Duterte fight crime and rid the streets of illegal drugs and substances and capture drug lords" by matching bubbles containing illegal drugs.
2. 'Duterterador'
Save Duterte from "brain-eating zombies" by using a slingshot to keep the evil hordes of undead at bay.
Playing the role of Duterte - "the fearless leader that could take down all the criminals is now in action to kick them flying away" - use your "Kung Fu attacks" to defeat criminals.
4. 'Duterte Shooting Crime Game'
A special edition of the "fighting crime game" was "developed for everyone who supports President Duterte" - and the aim is to "shoot all enemies to hell".
The game comes with the tough-talking president's famous sound-bites such as "My God, I hate drugs", "Galit ako sa droga" (I am angry with drugs), and "Heto na ang huli niyong Merry Christmas" (This is your last Merry Christmas) in reference to his viral Christmas message to criminals last December.
This bizarre trend of featuring a head of state in violent gaming can presumably be attributed to Duterte's controversial approach to tackling drug crime in the Philippines, in which he vowed to kill 100,000 criminals and feed them to fish. It appears his blunt remarks have also played a part.
READ MORE: 'I'll play with you in public': Duterte challenges West to confront drugs crackdown
Over 2,200 people have been killed in the 'war on drugs' since Duterte came into power in July, some 1,566 of whom were drug suspects.
The president has hit global headlines since his election for controversial comments about other state leaders such as Barack Obama, and comparing himself to Hitler.