'They're coming!' Far-right French mayor draws fire with posters warning of migrants' arrival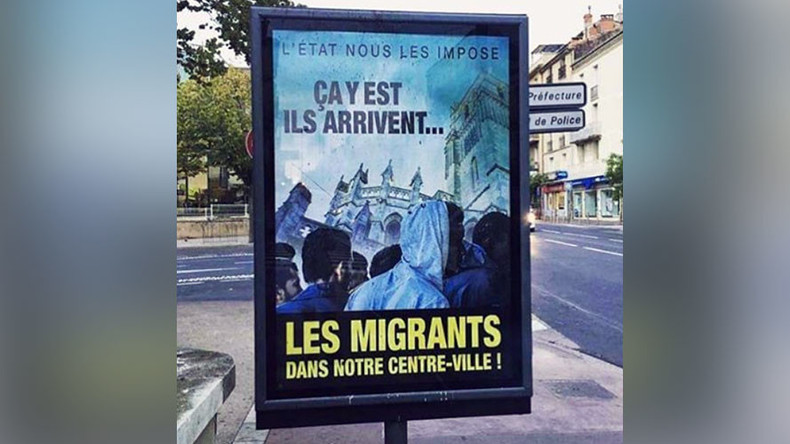 A French mayor notorious for his anti-immigrant views has released signs warning that migrants are being relocated to his southern town of Beziers because the state is "imposing them on us." The posters have outraged rights groups and social media users.
The signs, commissioned by Beziers Mayor Robert Menard, state: "That's it, they're coming." Underneath the headline is a picture of a crowd of male migrants outside the town's cathedral.
"The state is imposing them on us," the posters read. "Migrants in our town center."
The controversial move by Menard – a member of the far-right National Front party – is in response to the government's plan to relocate thousands of migrants from the north coast to dozens of sites across France, as authorities aim to demolish the notorious 'Jungle' migrant camp near Calais.
Some 40 migrants are slated to be relocated to Beziers.
"I'll do everything to ensure that these migrants don't settle in," Menard told French radio on Wednesday, as quoted by The Local.
Menard, who has been mayor since 2014, said he had not been informed that a migrant reception center was planned for Beziers, and insisted that residents should be allowed to vote on whether the migrants should be accepted.
The posters were criticized by Emmaus, a French group that works with migrants and homeless people, which described them as "sickening."
Many in the Twittersphere also criticized the mayor for the posters, with one person accusing Menard of using taxpayer funds for "hate propaganda."
Another said the poster is a source of shame for France.
Others took the opportunity to make spoof posters, with one replacing the photo of migrants with the photos of French far-right leaders.
One mock sign also said "they're coming," but instead of warning about migrants, it warned of "stupid racist and xenophobic French mayors," and featured a photo of Menard.
This is not the first time Menard has been criticized for his treatment of migrants. He sparked fury in September 2015, when he was filmed storming squats inhabited by Syrian refugees, telling them they were "not welcome in this town."
It is also not the first time Menard has made headlines over signs posted around Beziers. In February 2015, he landed in hot water after releasing posters which featured the "new friend" of the local municipal police – a 7.65 caliber handgun.
Menard's long list of controversies also include claiming that being French means being "European, white, and Catholic" and slamming a group of Muslims who, in a symbolic gesture of unity, had stood guard at a local cathedral during midnight mass at Christmas. In May 2015, he landed in hot water over the counting of Muslim children at local schools.