'You're not welcome': French mayor filmed trying to evict Syrian refugees (VIDEO)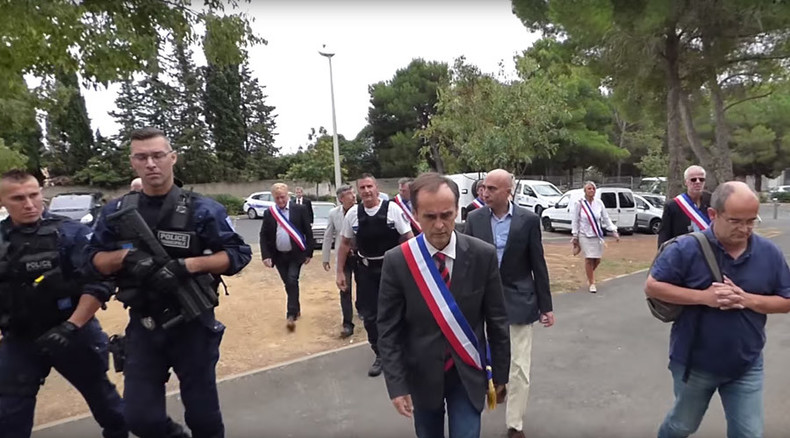 As Europe continues to face the worst refugee crisis since World War II, a far-right French politician has been filmed storming in on squats inhabited by Syrian refugees, telling them that they are "not welcome in this town."
Angry that the refugees have allegedly broken into apartments and begun squatting there, Robert Ménard, mayor of the town of Beziers in southern France, is seen marching into a building while surrounded by police – including an armed guard.
Accompanied by a translator who delivers the messages in English, Ménard tells a Syrian man: "You are not welcome in this town. You came in this apartment breaking the door."
He goes on to say: "You are stealing the water. People are paying for water, but you are just stealing electricity and water. It's not allowed in this town to just come in an apartment and live in it, without being allowed to it."
The right-wing politician says the Syrian refugees would be welcome if he "behaved correctly."
He then continues his 'tour,' knocking on two more doors and telling a person that he "will be welcome only if he respects the rules of this country and city."
Text at the beginning of the video states that dozens of refugees have been invading the rent-controlled neighborhood of La Deveze, "smashing doors" and "stealing water and electricity."
The video's publication comes as Ménard faces a lawsuit from AFP news agency, for wrongly using a photo taken in Macedonia back in June to rouse fears surrounding the refugee crisis.
The photo, which showed people boarding trains, sported the caption "The asylum seekers are coming to Beziers!" in the town journal.
The news agency and photographer Robert Atanasovsk are suing both Ménard and the city, seeking 30,000 euros (US$34,000) from each in damages.
Ménard also made headlines in May, when he was accused of racism and questioned by authorities after he claimed his administration analyzed the names of school children in Beziers to determine how many were Muslim. Stating that 64.6 percent were of the Islamic faith, he said that reflected an "immigration problem."
Meanwhile, the leader of Ménard's National Front party, Marine Le Pen, stated earlier this month that immigration is a burden, and that France does not have the resources to help refugees.
"Immigration is not a stroke of luck, it's a burden," she told supporters at the far-right party's summer school in Marseille. "Our country has neither the resources, nor the desire, nor the energy to be more generous with the misery of the world."
But the anti-immigration comments aren't only coming from the National Front. Earlier this month, Roanne Mayor Yves Nicolin – a member of former president Nicolas Sarkozy's Les Républicains party – said that he was only willing to accept Christian asylum seekers.
However, French President Francois Hollande has vowed to accept 24,000 refugees, stating that it is France's duty to take in those fleeing wars and persecution.
Europe is currently facing the worst refugee crisis since World War II. More than 430,000 people – most of whom hail from Syria, Iraq, and Afghanistan – have crossed into Europe this year alone.