'Zero accountability': UN human rights boss repeats call for investigation into Yemen war crimes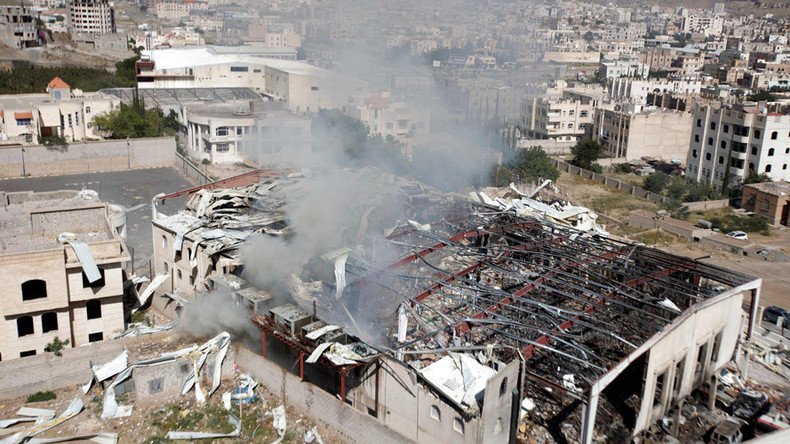 The UN High Commissioner for Human Rights has again called for an international investigation into possible war crimes in Yemen, stressing that a deadly airstrike on a funeral service at the weekend indicates that violations have continued without repercussions.
The UN's top human rights official, Zeid Ra'ad al Hussein, said that the bombing of a funeral in the Yemeni capital of Sana'a was "outrageous". More than 150 civilians were killed and over 525 others injured.
"Since the beginning of this conflict in Yemen, weddings, marketplaces, hospitals, schools – and now mourners at a funeral – have been hit, resulting in massive civilian casualties and zero accountability for those responsible," he said in a statement.
Zeid attracted attention to the fact that for the second year in a row the UN Human Rights Council has turned down his calls "to take decisive action to create an international, independent investigative body to look into extremely serious alleged violations of international law, including possible war crimes, in Yemen."
READ MORE: 1,000s of Yemenis rally outside local UN office after deadly airstrike blamed on Saudi-led coalition
"The Human Rights Council's inability to take decisive action by setting up an international investigation is contributing to a climate of impunity, and violations continue to occur on a regular basis," he said.
According to the High Commissioner, the international community "has a legal and moral duty to react robustly to the increasingly horrific levels of civilian casualties in Yemen, just as it has in many other situations."
Zeid revealed a new UN death toll in Yemen. Some 4,125 civilians have been killed and 7,207 injured since March 2015.
There was a spike in violence following the breakdown of a ceasefire agreement between the Saudi-led coalition and Shia Houthi rebels. There were 379 civilian casualties in September and 379 in the ten days in October, according to UN data.
The High Commissioner said that the funeral airstrike may lead to a further escalation in country, which would result to even more civilian deaths.
Zeid concluded by urging the warring sides to return to the negotiations table to resume talks, advising external players to reconsider their support for the parties in the conflict.
A Saudi-led coalition has denied responsibility for the incident, but said that an internal investigation will be carried out.
Saudi Arabia and its allies intervening in Yemen in March 2015 to support deposed Sunni President Abd-Rabbu Mansour Hadi.
Since then the coalition has on numerous occasions been blasted by international rights groups for carrying out indiscriminate attacks on civilian targets.
READ MORE: 140 killed & 525 injured after reported Saudi-led airstrike hits funeral in Yemen
In August, at least 11 people were killed and 19 injured in an airstrike that hit a Doctors Without Borders (MSF) hospital in northwestern Hajjah province.
Meanwhile, French Foreign Minister Jean-Marc Ayrault has defended Saudi Arabia's involvement in Yemeni affairs.
"As for Saudi Arabia, which is a neighboring country, there are terrorist threats that are a concern for them," Ayrault said during his appearance on Radio France.
You can share this story on social media: