White gold rush? Russian mammoth hunters dig into permafrost in search of precious ivory
It seems that a new kind of "gold rush" has taken over remote areas of Russia's Far East and Siberia, as ivory hunters are mining for mammoth remains buried deep in the permafrost. RT spoke to some of them.
Mammoths died out some 10,000 years ago, but their tusks or bones can still be found deep in isolated areas of permafrost where they are best preserved. Most miners do not have a license, but take up the activity anyway in order to support their families or just get rich. Hoping to find precious ivory, the hunters go off on long journeys and spend months in the wilderness in specially set-up up camps.
Read more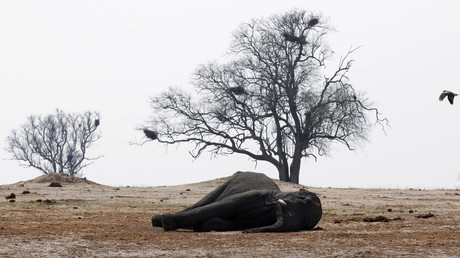 Finding rare ivory is no easy task. Poachers hunting for the Siberian "white gold" go through all the "amenities" of the searching process, including digging holes and drilling caves and tunnels deep in areas covered by permafrost. Valuable mammoth remains can be found on the bottom of rivers, on lake shores, and in ravines.
"We search during the rains and snowmelt when the water is coming down and the bones show through," mammoth hunter Aleksandr Banderov told RT.
Finding a tusk is a "lucky catch." A mammoth tusk, which can be as long as 4 meters (13ft), is considered the most "valuable" ivory material and can bring the hunter some $30,000. Although not as valuable as a tusk, mammoth bones can also increase a hunter's income, with one kilo worth $25,000.
Apart from mammoth remains, hunters also find the bones of cave lions, ancient bears, and rhinos.
"I learned about mammoth tusks almost 25 years ago when I started travelling to the North. No one knew the real value of mammoth tusks back then, and they were quite cheap. That changed when elephant hunting was banned in Africa. Now most locals are trying to make a living looking for mammoth remains. That's why we have to travel to remote and hard to reach areas to find them. Sometimes we get lucky and find bones of cave lions or prehistoric bears," another mammoth hunter, Valery, told RT.
Read more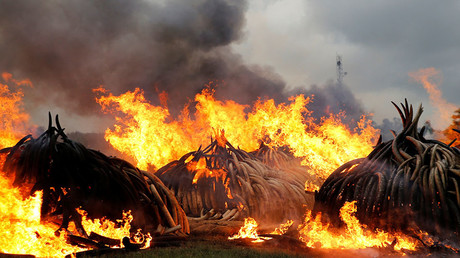 Unlike the ancient mammoth hunters, today's ivory hunters are equipped with water-pumps to clear the areas of soil and to drill underground tunnels.
According to Radio Svoboda, only 20 to 30 percent of searchers are lucky enough to find the ancient remains, while many go home empty handed.
Permafrost exists in any climate where the average annual air temperature is less than the freezing point of water. Mammoth bones would have decomposed in several years in warm soil, but permafrost preserves them.
Trade in ivory has been practiced for hundreds of years by people all over the world. In more recent times, this has led to the endangerment of certain animal species and caused restrictions and bans in many countries. The UN has recently called on the Convention on International Trade in Endangered Species to impose a ban on international ivory trade.