'Largest in history': Kenya sets ivory pile on fire in statement against poaching (VIDEO)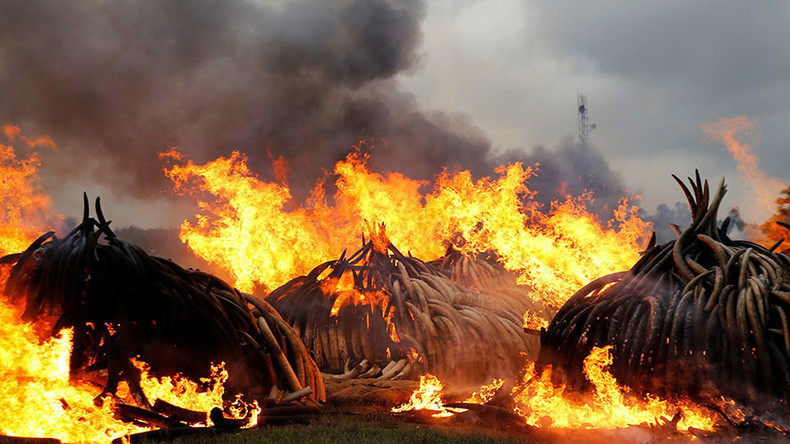 Some 100 tons of ivory were set ablaze by Kenyan authorities in a bid to combat wildlife trafficking and poaching. The ivory stockpile was worth some $170 million and is the largest in history ever to be burnt.
The ceremony was held in Kenya's Nairobi National Park on Saturday and is set to last for a few days. Some 105 tons of elephant ivory, 1.35 tons of rhino horn, along with animal skins which had been collected across Africa, are to be reduced to ash in a crematorium which took Kenya 10 days to build.
The event was attended by the Kenyan president and other African heads of state including the president of Gabon who said that by the symbolic action they wanted to send a strong message to people involved in all kinds of illicit activities.
"What we fear in the future is to see organized crime coming along and terrorists. Terrorists are in need of resources, for their operation. They will get on board because these are people who are looking for any kind of illegal activity. Whether it's arms trafficking, human trafficking, gold trafficking, diamond trafficking, but also ivory," Ali Bongo Ondimba, President of Gabon said.
The size of the ivory stockpiles is said to be the biggest in history to be ever destroyed, while its height "marks the strength of our resolve," Kenyan President Uhuru Kenyatta stressed. "No-one, and I repeat no-one, has any business in trading in ivory, for this trade means [the] death of our elephants and death of our natural heritage."
Read more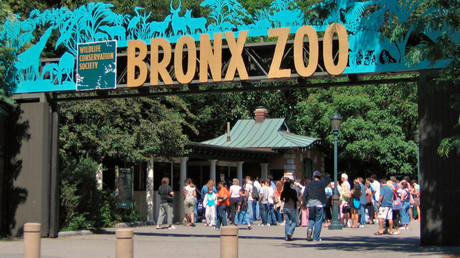 Hundreds of onlookers observed the ceremony which has awakened mixed feelings in the nation.
"I am so deeply moved by what has happened here today. This is a moment in history which people around the world will remember for decades to come. I feel very sad that we have to burn thousands of tusks, representing elephants which had names, families, they were individuals with personalities," conservationist Paula Kahumbu said. "At the same time I am so profoundly proud of my president for making this decision and for lighting these piles, despite some opposition. And he did it because he wanted to do the right thing for future generations."
Some, however, questioned the motives of Kenya in conducting such an event.
"I would appeal to southern African states to consider the implications of holding on to their stockpiles. While you have those you are suggesting that there will be a future market," Dr Richard Leakey, a paleontologist and chair of the Kenyan Wildlife Service said as reported by The Telegraph.
READ MORE: Rhinos to get 'horn-cams' to catch poachers red-handed
On Friday, the Kenyan president, along with heads of other African nations, held a Giants' Club summit to establish means by which to stamp out the ivory trade.
The Kenyan president is set to push for the total ban ivory trade at the 17th meeting of the Convention on International Trade of Endangered Species in South Africa later this year.
More than 30,000 elephants get killed every year by poachers in Africa, which is home to around 500,000 species. This is the fourth time Kenya is burning ivory as a way of tackling the illegal ivory trade with the first stockpile burned in 1989.