Hundreds protest in Istanbul over raid & shutdown of pro-Kurdish TV channel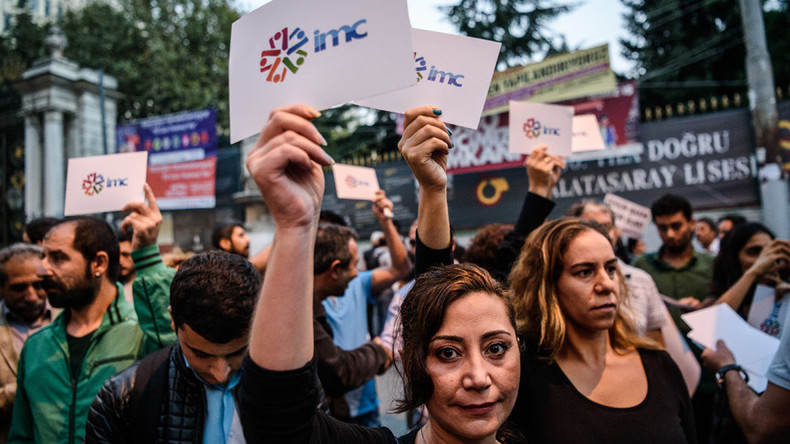 Hundreds of people have taken to the streets of Istanbul to voice their protest against a raid to shut down a major pro-Kurdish TV channel as part of Turkey's controversial state of emergency.
Hundreds of demonstrators gathered near Taksim Square in Istanbul after the IMC TV channel was raided by Turkish police, who cut short its broadcasting on air, AFP reported
The channel was closed due to the state of emergency, introduced after the failed July coup and recently extended for three months starting from October 19.
IMC TV was shut down over suspected links with US-based cleric Fethullah Gulen who is accused of standing behind the July coup against Turkish authorities, though Gulen has repeatedly denied the accusations. IMC and 12 other TV channel are said to put Turkey's national security at risk.
The channel has already been taken off the air by the largest satellite operator in Turkey for broadcasting "terrorist propaganda."
Protesters, mostly from the media outlets that have been or are to be closed, were heard chanting "IMC TV cannot be shut down" and "All together against fascism," others were seen carrying placards saying "Free press cannot be silenced," according to AFP correspondents.
There was a large police presence at the scene, but no clashes were reported.
IMC TV began broadcasting in 2011 and paid close attention to Kurdish issues, women's rights and environmental problems in its broadcasts.
Following the attempted military coup this summer, Ankara has carried out a shakeup that has affected almost every part of the Turkish society, starting from mass dismissals among military personnel to a sweeping purge at universities, believed to be part of a continuing campaign against the Kurdistan Workers Party (PKK) militants.
The crackdown has raised concerns among human rights groups and Western allies, which fear President Erdogan may be taking advantage of the situation and using the failed coup as a pretext to keep clamping down on the Kurdish minority.
More than 100 media outlets have been shut down in Turkey for alleged links with Gulen or the Kurdish insurgency.
READ MORE: Turkey rejects truce with Kurds, lashes out at US over 'unacceptable' comments
You can share this story on social media: