Erdogan accuses US of new weapons deliveries to Kurdish 'terrorists'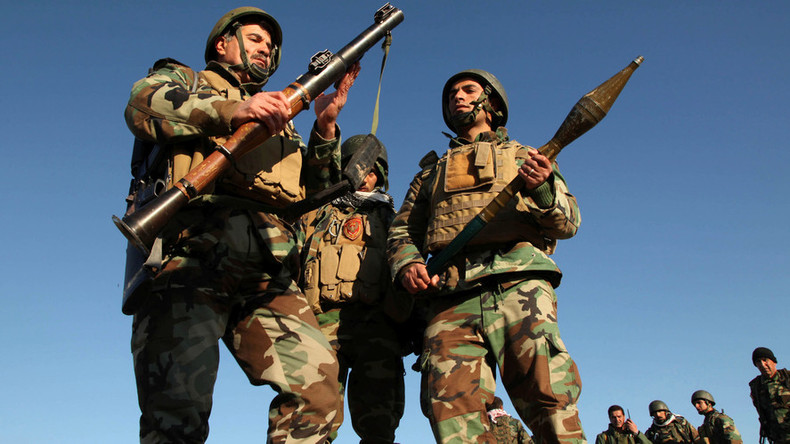 Turkey's President Erdogan has accused the US of supplying arms to Kurds fighting against Islamic State in Syria. Erdogan equated the Kurdish forces with IS militants, and referred to previous cases when American weapons were seized by Islamists.
"If you think you can finish off Daesh [Arabic pejorative for IS, formerly ISIS/ISIL] with the YPG and PYD, you cannot, because they are terrorist groups too," Turkish President Recep Tayyip Erdogan said on Turkish television, Reuters reported on Friday.
The Turkish strongman then went further, saying that the US has already sent more weapons to Kurdish militia which he described as "terrorist groups."
"Three days ago America dropped two plane loads of weapons in Kobani for these terrorist groups," Erdogan said, adding that he had discussed the issue with US Vice President Joe Biden, who had claimed to be unaware of the arms supplies.
Two years ago, US forces air-dropped arms and munitions to Kurdish YPG (People's Protection Units) militants fighting against IS in and around the Syrian town of Kobani, with half of those weapons later being seized by Islamists, according to Erdogan.
The Turkish president argued in an interview with Bloomberg on Wednesday that Washington is "doing wrong before the eyes of the world" by delivering weapons to the Kurds.
"By giving them weapons, you're endangering our future," he said, adding that the US-led coalition could carry on without significantly relying on Kurdish allies.
The Kurdish issue is likely to add more strain to the uneasy relations between NATO allies the US and Turkey. Washington sees the Kurds as natural allies in combatting IS, whereas Ankara has resorted to controversial means of suppressing Kurdish groups in Turkey and beyond.
Also on Wednesday, the New York Times reported that the Obama administration was considering more arms deliveries to the Kurds in the hope that it would help their advance on the Islamic State stronghold of Raqqa.
Currently overseen by the US Central Command (CENTCOM), the proposal includes providing the Syrian Kurds with "small arms and ammunition, and some other supplies" but "no heavy weapons such as antitank or anti-aircraft weapons," the newspaper reported.
In the meantime, Turkey is seeking to expand its ongoing 'Euphrates Shield' operation – first launched to capture the Syrian border town of Jarablus – further west to within just 50km of Aleppo.
The operation has a stated goal of "clearing" the city from IS militants and securing Turkey's southern border area, but some observers say it is also aimed at preventing Kurdish fighters from making advances in the area.