Berlin police shoot & kill refugee as he attacks 8yo daughter's alleged sexual abuser
Published time: 29 Sep, 2016 05:14
Edited time: 19 Dec, 2016 19:35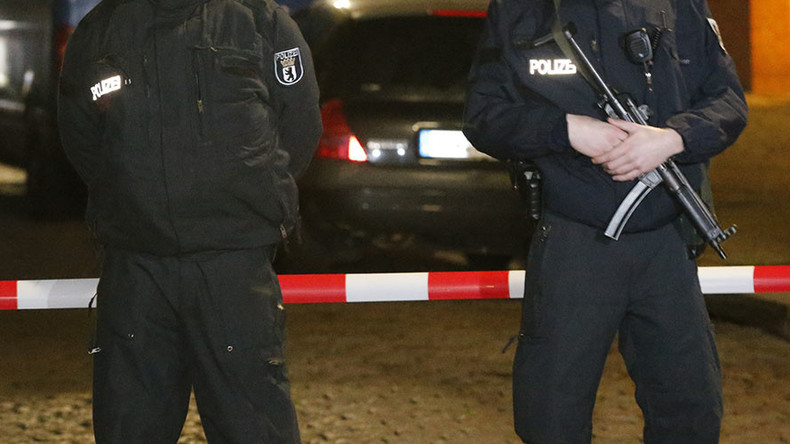 German police shot and killed a refugee at a shelter in Berlin after he tried to attack a man who allegedly sexually abused his eight-year-old daughter. An investigation has been launched into the man's death.
Authorities led the accused suspect, a 27-year-old Pakistani man, to a police car in handcuffs on Tuesday evening, following the accusation of sexual abuse. As he was sitting in the vehicle, the young girl's Iraqi father rushed towards the car with a knife. Witnesses cited by the International Business Times said they heard the father screaming, "you will not survive this!"
Three officers opened fire on the father, claiming he ignored multiple calls to stop. He was treated on the spot and taken to hospital, where he died from his wounds several hours later.
"Yesterday evening, police officers shot a 29-year-old attacker in Moabit," Berlin police said in a statement on Wednesday, as quoted by Deutsche Welle.
"A 27-year-old man against whom there is suspicion of sexual abuse was arrested and brought into a police vehicle. While he was sitting in the vehicle, the 29-year-old man carrying a knife stormed out of the shelter towards the man in the car. He ignored multiple calls to stop, after which several police officers shot at the man."
An investigation has been launched into his death by the Berlin police's homicide division. Investigations are automatic anytime a German police officer opens fire.
The father had three children between the ages of three and eight, Sascha Langenbach, a spokesman for the city authorities, told Deutsche Welle.
Langenbach added that his family has been moved to another shelter, and that authorities "have made sure that the mother and children will be cared for psychologically and medically."
It's not the first instance of alleged sexual abuse to take place at an asylum shelter in Germany. In July, a member of the left-wing Die Linke party told German parliament there had been 128 allegations of children being sexually abused at refugee centers in the first quarter of 2016.
Also in July, the Germany parliament unanimously passed a tougher law on sex offenses, making any form of non-consensual sexual contact a crime, and easing the deportation procedure for refugees involved in sexual assaults. The vote followed a string of sexual assaults on New Year's Eve, which were allegedly committed by men from North Africa and the Middle East.
In April, the country launched a €200 million ($225mn) initiative to safeguard women and children against sexual assaults and trauma in refugee centers.
The tactic of keeping large numbers of refugees in large shelters has been slammed by the Berlin Refugee Council and other organizations which claim the procedure leads to social problems and conflicts, and hinders integration.
However, Langenbach stressed on Wednesday that he thinks there are also conflicts when people aren't kept in mass shelters.
"Considering the fact that last year a million people came to Germany, I think looking at the larger picture, there have been relatively few incidents," he said.
Germany continues to deal with the biggest refugee crisis since World War II, which brought more than one million asylum seekers to the country in 2015. Most of the refugees hail from Syria, where a civil war has claimed the lives of over 250,000 people and displaced 12 million others since 2011, according to UN figures.