Half a million failed asylum seekers still in Germany - inquiry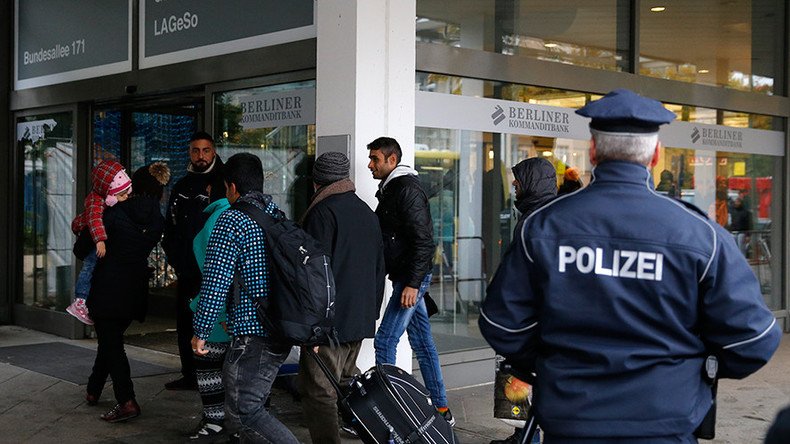 Some 550,000 migrants in Germany who have had their asylum requests rejected have still not been deported, according to parliamentary figures cited by a local media outlet. Politicians are demanding tougher deportation proceedings.
As of June, the German government counted 549,209 migrants who have had their asylum requests denied but are still in the country, Bild reports, citing an inquiry by Die Linke (The Left) party.
The federal government responded to the report by saying that around 400,000 of those denied asylum have been living in Germany for over six years. Turkish citizens represent the largest group (77,600) followed by those from Kosovo (68,549) and Serbia (50,817).
Nearly 170,000 people have the status of so-called 'tolerated' immigrants, the inquiry states. The number includes 100,000 failed asylum seekers, with 37,000 refugees still not deported because they do not possess a valid passport.
The figures drew an angry reaction from the deputy chairman of the parliamentary CDU/CSU faction, Hans-Peter Friedrich, who demanded tougher deportation rules.
"Who allows rejected asylum seekers to tweak the nose of the state [and] destroy public confidence in the capacities of the state?" Friedrich said in comments to Bild, adding that "the laws should be changed swiftly."
Echoing this criticism, the chairman of the German Police Union, Rainer Wendt, said that the country harbors "a true industry" helping failed asylum seekers to dodge deportation.
The official in particular accused the 'pro-Asylum' organization, which helps refugees to challenge deportation, of "systematically" undermining repatriation efforts.
Following attacks by refugees across Germany this summer, Interior Minister of the State of Bavaria Joachim Hermann even urged that criminal migrants should be "deported to war regions."
As of June, Germany has sent back 13,134 failed asylum seekers, the inquiry by Die Linke reveals.
Meanwhile, thousands of asylum seekers have lost patience with the country's authorities for the slow handling of their applications. Earlier in September, German media, citing official figures, reported that 7,014 of them have filed 'failure-to-act' lawsuits against the state.
Last year Germany welcomed over a million refugees, though not everyone filed an asylum request in the country. The issue saw a massive rise of the anti-immigrant AfD party, with Chancellor Angela Merkel also facing mounting criticism over her open-door policy.
Following local polls in several federal states, in one of which the AfD surpassed Merkel's CDU, the chancellor admitted her government was "not prepared" for the refugee influx.
"If I could, I would turn back time many, many years to better prepare myself, the whole federal government and all those in positions of responsibility for the situation we were rather unprepared for in the late summer of 2015," Merkel stated.
You can share this story on social media: