Hungary's Orban: Send illegal immigrants to non-EU camps 'on island or in North Africa'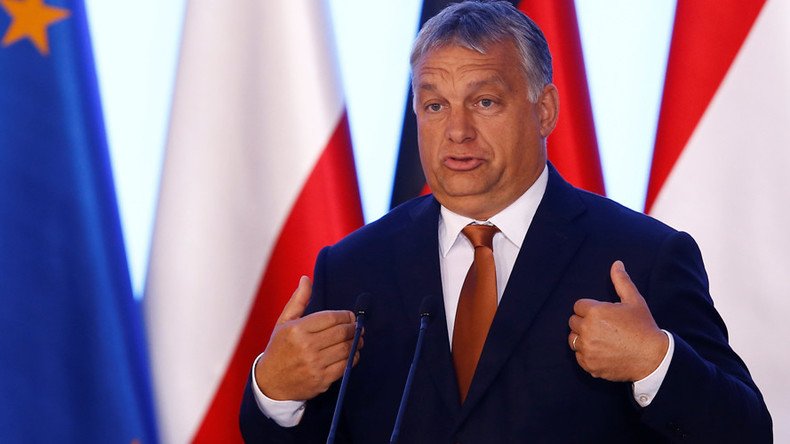 The EU should reverse the influx of illegal migrants by rounding them up and sending them to camps outside its borders, Hungarian PM Viktor Orban said in an interview as his country holds a referendum on mandatory EU migrant quotas.
The Hungarian leader's hard stance against immigration reflects a deep divide in European opinion, which has been highly polarized by the huge influx of refugees that started last year.
On Monday, German Chancellor Angela Merkel admitted she would like to "turn back time" to better prepare herself, the German federal government "and all those in positions of responsibility for the situation we were rather unprepared for in the late summer of 2015."
"I would also like to turn back the clock… what a good idea," Orban said. "But the problem is that it is not possible."
On October 2, Hungarians will vote on Brussels' plans to distribute some 160,000 refugees and migrants among the 28 EU member states, a ruling which was passed last September. Hungary was among four nations that voted against the step, and it has legally challenged it.
Hungarian President Janes Ader said in a statement posted on his office's website on Tuesday that the vote will be about the following question: "Do you want the European Union to be entitled to prescribe the mandatory settlement of non-Hungarian citizens in Hungary without the consent of parliament?" as cited by Reuters.
Speaking with the Hungarian news website Origo.hu, Orban suggested there should be an effort to try and reverse the flow of arrivals.
"Those who came illegally, they must be rounded up and shipped out," Orban told the website. "We must set up large refugee camps outside the EU, with armed security and financial support provided by the Union. Everyone who came illegally must return there. There they can file for asylum. Until then, they must remain in large, non-EU camps. This could be an island, it could be a coastal area in North Africa, but the security and supplies of that area must be guaranteed by the EU in its own interest."
Orban said he believed the refugee crisis was a result of the emerging phenomenon of a "global village," in which the world has come so closely together this has made some people think they have a right to go anywhere they please.
"But I belong to those who do not want their piece of the world's civilization to change, and in particular do not want to change the culture of a piece of land that we call Hungary. I love this country."
Orban's latest remarks have already drawn criticism.
"This merely makes clear what we have understood about the Hungarian government's policies all along — they want a zero refugee policy, even if that means mass deportations," Helsinki Committee co-chair Marta Pardavi told the Financial Times.
Last week, Luxembourgian Foreign Minister Jean Asselborn told the Die Welt newspaper that "Hungary is not far from an order to shoot refugees" and suggested that the country could be "excluded" from the EU for treating refugees "nearly as bad as animals."

Orban has made a number of controversial remarks about asylum seekers in the past, such as suggesting pig's heads be placed on top of the fence along Hungary's border to better repel refugees. Recently, the Hungarian government has also released leaflets depicting some areas in London, Paris, Brussels and other European cities as no-go zones that have too many migrants whom "the authorities cannot keep under control."
READ MORE: Hungary claims parts of London a 'no-go zone' because of terrorists posing as migrants
Hungary, a member of the EU, took a restrictive approach to the refugee crisis that started last year. In September 2015, it erected a razor-wire fence on its border with Serbia to stem the refugee flow and a month later it built another on the border with Croatia.
In June this year, Hungary allowed police to send back all illegal immigrants detained within 8 km from the fence and also further limited the number of daily entries for migrants to 30.
You can share this story on social media: