Headscarf lowers women's chances of getting a job in Germany – study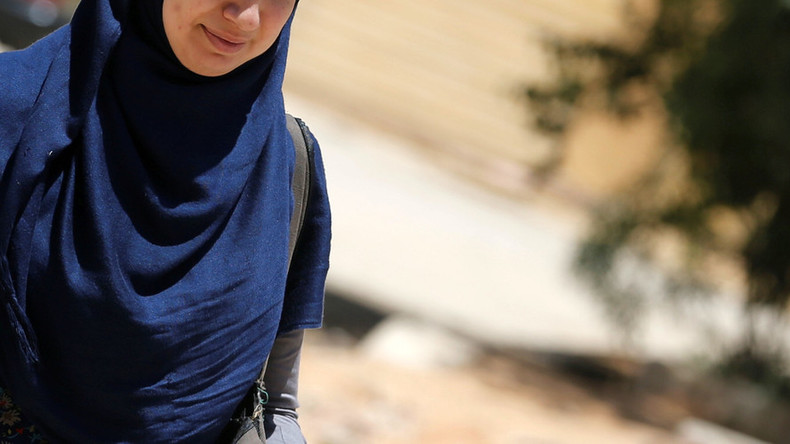 Wearing a headscarf lowers the chances of getting a job for women in Germany, a new study has revealed. A woman with the same skills set as others but wearing a headscarf in her CV picture was four times less likely to be invited to interviews, it was found.
Researchers from the Institute for the Study of Labor, an independent economic research institute headquartered in Bonn, Germany, examined the employment chances of females with backgrounds from Muslim countries, focusing on women wearing headscarves.
The researchers sent out some 1,500 applications for office worker positions, such as secretaries and accountants. They invented two fictional female characters, 'Meryem Öztürk' and 'Sandra Bauer', both 27, but created two CVs for Meryem Öztürk – one with her wearing a Muslim headscarf and another without it. The same woman posed for all three CVs, as the picture below shows.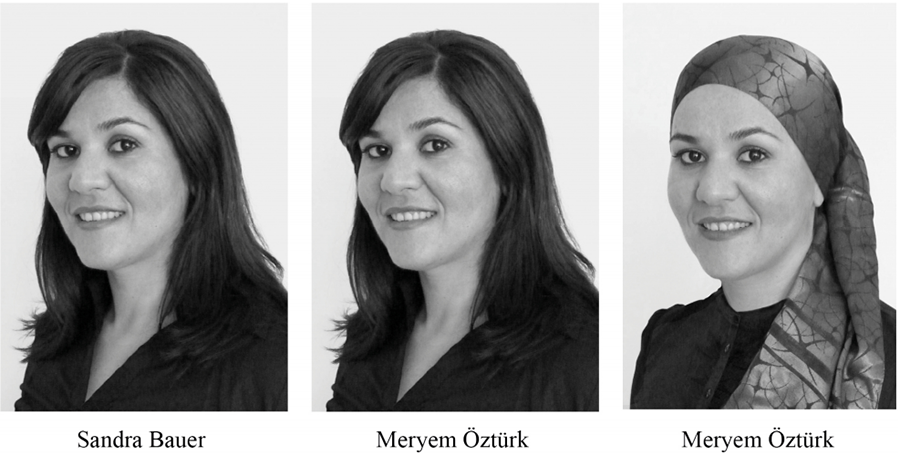 All three CVs had identical qualifications.
The first thing researchers were attempting to find out was whether the name – that of German or foreign origin – would affect the number of job interview invitations the woman received, given that the set of personal skills and training was identical.
It turned out that although there was a difference, it did not appear to be significant. The applicant with the German name – 'Sandra Bauer' - was the most successful, receiving interview invitations for one in five jobs (18.8 percent). Her result, however, was not too different from that of 'Meryem Öztürk' – the version without a headscarf. She was invited to almost every seventh job (13.5 percent).
Yet when they sent out applications of 'Meryem Öztürk' wearing a headscarf, the researchers discovered she was invited to just one in 24 interviews – over four times less than if the woman had appeared in the picture without the headscarf.
READ MORE: Campaign for hijab emoji launched by Saudi teen seeking 'tolerance & diversity'
"This result implies that the candidate with the headscarf had to send 4.5 times as many applications as an identical applicant with a German name and no headscarf to receive the same number of callbacks for interview. This suggests that there is discrimination against female migrants – particularly if they wear a headscarf," the researchers state.
They also found that small firms discriminate more often than large international corporations.
"If integration is to succeed, the existing discrimination in the labor market needs to be eliminated," the study concluded.
Muslim headscarves have been at the center of heated debate in Germany lately. In August, a Muslim intern was fired on her first day of work at a mayor's office in the eastern town of Luckenwalde, Brandenburg, because she refused to take off her headscarf, local media reported.
The same month, a court in northwest Germany sided with school authorities in a lawsuit brought by a student who had been expelled from classes for wearing a full-face veil.
In June, however, a Muslim law trainee won the right to wear a headscarf to work when a court ruled that there was no legal basis for the state of Bavaria to prevent her from doing so.
Last year, Germany's Constitutional Court lifted a ban on female Muslim teachers wearing headscarves, as long as it doesn't lead to "disruption" at school.
Another type of Muslim headdress – the burqa – also received its share of criticism in the country, with the interior minister advocating a partial burqa ban last month. Chancellor Angela Merkel recently said that a "completely covered" woman has almost "no chance of integrating" into German society.
READ MORE: Muslim intern refuses to remove headscarf, German mayor fires her on 1st day
Germany has a Muslim population ranging from 1.9 percent to 5 percent, according to different estimates.
In previous studies cited by researchers, it was found that people associate the headscarf with Muslim fundamentalism, intolerance and terrorism. They also cited a representative survey by Bertelsmann Stiftung that was published in 2015, just before the recent wave of Syrian migrants into Germany. According to this survey, 57 percent of non-Muslim Germans considered Islam as a threat, while 24 percent said that Germany should no longer permit Muslims to immigrate.
You can share this story on social media: