'That was real!' Suspected pipe bomb explodes at NJ train station (VIDEOS)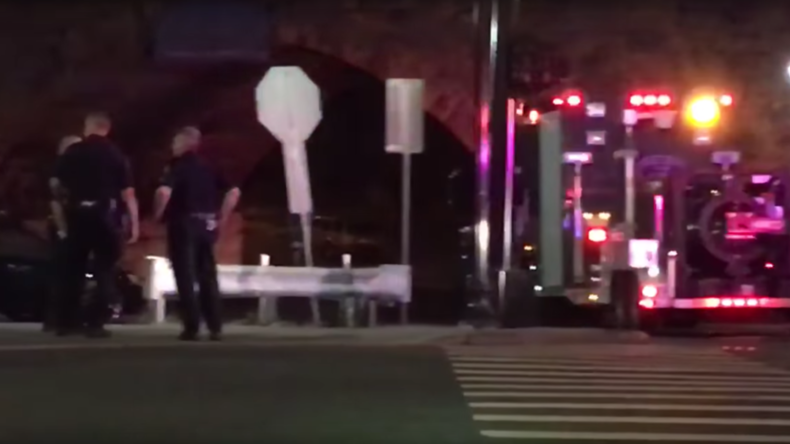 Videos have emerged showing the moment an explosion went off at a train station in Elizabeth, New Jersey. The uncontrolled blast occurred while a robot was cutting into a backpack found to contain multiple devices.
A video posted by journalist Anthony DiLorenzo shows the entire detonation taking place. The robot can also be seen in the footage.
Another shows a crowd of people near the scene shocked at the incredibly loud blast.
READ MORE: Explosion at NJ train station as FBI investigates suspected pipe bombs
One man responds by shouting "that was real, bro!"
A law enforcement official reportedly confirmed that pipe bombs were inside the backpack, The New York Times reported.
It was initially reported that the blast was controlled, as it took place while a robot was attempting to disarm the backpack.
However, Elizabeth's mayor, Christian Bollwage, later confirmed that authorities were not responsible for the detonation.
"This was an explosive device" containing as many as five devices, Bollwage said. "Based on the loudness, I think people could have been severely hurt or injured if they had been in the vicinity."
Authorities believe the explosion in Elizabeth is connected to the earlier detonation in the New York City neighborhood of Chelsea, and are searching the apartment of the person of interest, identified as 28-year-old Akhmad Khan Rahami.
"The FBI is executing a search warrant," Bollwage said on CNN. "They will be there for the next few hours, going through this location to find any evidence possible, whether it's in relation to this incident or the Chelsea incident."
You can share this story on social media: