Bomb blast at New Jersey train station as robot tries to disarm device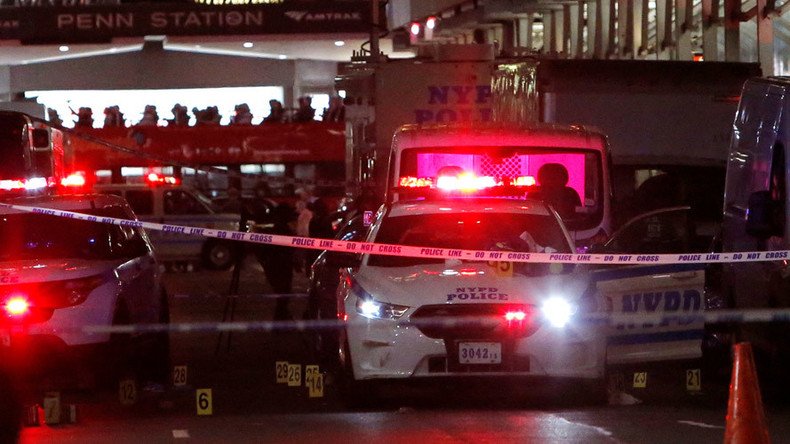 An explosive device blew up near a railway station in Elizabeth, New Jersey, as a robot was trying to disarm it. It was one of at least five bombs found in a backpack. There have been no reports of any injuries, the local mayor confirmed.
The incident took place at 12.30am (4:30 GMT) in the city of Elizabeth, which is south of Newark. The devices had been placed in a trash can near the train station, the city's mayor, Christian Bollwage, said.
"I can imagine that if all five of them went off at the same time that the loss of life could have been enormous if there was an event going on," Bollwage commented.
The backpack was discovered by two scavengers who were rummaging through trash. After spotting "wires and a pipe," they reported the find to the police, around four hours before the explosion took place.
Bollwage said he did not believe the two people were involved. "We believe they did the right thing," he told NBC New York.
A bomb disposal team was called in to deal with the suspect package and there was an explosion as a robot cut a wire on the mechanism.
Train services were halted following the blast, but New Jersey Transit has resumed operations, while the area at downtown Elizabeth has been cleared, the FBI tweeted.
Police have not made any arrests in connection to the incident. A car was stopped in Brooklyn and five men were questioned by the FBI, but no one was detained.
"We conducted a traffic stop of a vehicle of interest in New York City but no arrests were made and no one has been charged with any crime," FBI spokeswoman Kelly Langmesser told Reuters.
There was a suspicious package with multiple improvised explosive devices this evening at the Elizabeth Train Station in NJ. #Elizabeth

— FBI Newark (@FBINewark) September 19, 2016
Hours later, FBI agents and police congregated at an apartment near the Elizabeth train station. However, it is unknown if there is a connection between the address and the blast, AP reports.
The city of Elizabeth is around 24km (15 miles) from Manhattan, where a bomb exploded less than 24 hours earlier, injuring 29 people. Another bomb also went off in New Jersey on Saturday.
On Sunday, New York Governor Andrew Cuomo said that an extra 1,000 state police officers and National Guard servicemen would be deployed to monitor bus terminals, airports and subway stations.
Bollwage said it was too early to say whether Elizabeth, which has a population of around 130,000, was deliberately targeted or whether the backpack may have been deliberately discarded in order to try and throw investigators.
A massive investigation is underway looking for possible links between the five improvised explosive devices (IED) that were discovered in New York City and those in New Jersey.
Initially, an explosion in a garbage container near a Marine Corps charity run in New Jersey took place on Saturday morning.
No injuries were reported but the partial blast delayed the start of the race in which more than 5,000 runners participated. Later, investigators in New Jersey discovered three pipe-bomb-type devices wired together near the boardwalk.
On Saturday evening, a second bomb exploded in the Chelsea neighborhood of Manhattan, injuring 29 people, all of whom have been released from the hospital after receiving medical treatment. The blast was called "an act of terrorism" by Governor Cuomo.
You can share this story on social media: