Ukrainian radicals attack Russian Embassy on eve of parliamentary election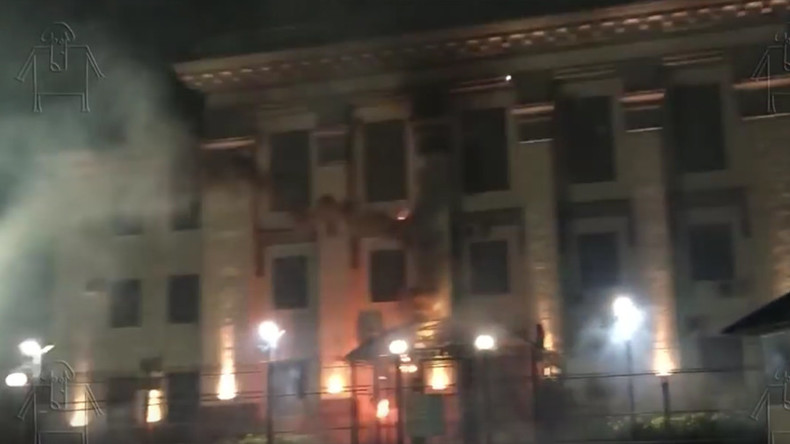 Overnight a group of some 20 radical Ukrainian nationalists, attacked the Russian Embassy in Kiev with fireworks. The embassy is bracing itself for potential trouble on election day.
The attack happened at about 1:00am on Saturday morning, a diplomatic source told TASS news agency.
"Unidentified individuals threw a smoke stick at the embassy's territory and shot fireworks at the building," the source said, adding that the attackers failed to ignite anything.
Footage of the incident taken from a passing car shows multiple fireworks being fired at the windows of the embassy. The projectiles do not appear to do much damage since the windows were covered by metal shades.
Another video published by Reuters showed a group of people in hoodies shooting fireworks at the embassy and holding cameras. Two of them carried a large banner with a rhyme that read: "Russian swine, you are not welcome here. Today it's fireworks; tomorrow there will be Grads [multiple rocket launchers]."
A radical nationalist group called S14, or Sich, claimed responsibility for the night attack. The group used to be a paramilitary wing of the nationalist party Svoboda, but split from it in 2014. It has been involved in dozens of violent confrontations in Ukraine. One of its members, Andrey Medvedko, is suspected by the Ukrainian investigators of murdering prominent Ukrainian journalist Oles Buzina in April 2015.
The Ukrainian media reported that about 20 people were involved in the attack.
The Russian embassy lodged a formal complaint with the Ukrainian Foreign Ministry, demanding a proper investigation of the attack and that the safety of the Russian diplomats was ensured.
Ukrainian Prime Minister Vladimir Groisman called it an act of hooliganism that should not have happened in Kiev, and a "minor incident unworthy of commenting."
READ MORE: Russian embassy attacks: Kiev must protect diplomatic missions, US State Dept says

Read more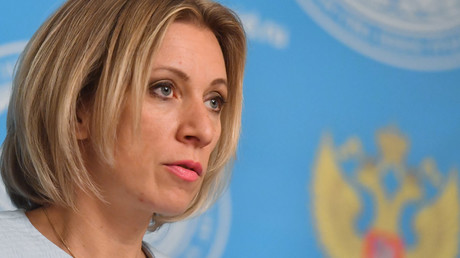 Russian diplomatic missions in Ukraine were targeted in a number of attacks over the past year. The Ukrainian authorities appear to be unable to provide proper protection for the Russian Embassy and consulates, despite the responsibility under international law to do so.
The embassy in Kiev is bracing for possible provocations on Sunday, when it will open its doors to Russian citizens wishing to cast their ballots in the Russian parliamentary election.
The Ukrainian government called the vote illegal due to the ongoing conflict with Moscow over Crimea, and said it would not allow voting on its territory. Free access of foreign nationals to their country's diplomatic missions is part of the international rules governing diplomatic relations between nations.
Following last night's incident, the Ukrainian PM said security around the Russian Embassy will not differ on Sunday from any other day.
"We will not protect the Russian election process. In fact there is order in Kiev on any day of the week. So the law enforcement will function as usual," he said.