Russian embassy attacks: Kiev must protect diplomatic missions, US State Dept says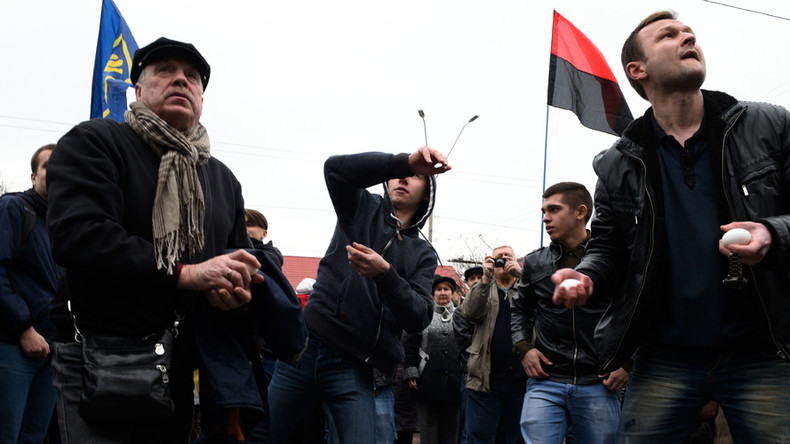 Ukraine must comply with international rules and protect diplomatic missions in the country, US State Department spokesman John Kirby said Friday. Russian consulates throughout Ukraine have recently suffered multiple attacks by radicals.
Ukrainian ultranationalists staged a series of attacks on Russian consulates in Kharkov, Lvov and Odessa, as well as the embassy in Kiev, pelting the buildings with stones, eggs, smoke bombs, flares and even Molotov cocktails.
The radicals demanded the liberation of Ukrainian army pilot Nadezhda Savchenko, who is currently on trial in Russia. While serving in a Ukrainian voluntary battalion as a spotter, Savchenko called a mortar strike on a group of civilians and a TV crew from Russian state television, which resulted in the deaths of two Russian journalists, Igor Kornelyuk and Anton Voloshin.
In their attacks on Russian diplomatic missions, the extremists not only damaged the exterior of the buildings, but also tried to breach their fences, with Ukrainian police mostly standing by passively.
"The United States has seen violent protests at and around the Russian diplomatic and consular facilities in Ukraine," the US Department of State spokesperson told reporters. "We call on the people of Ukraine to express themselves peacefully and we call on Ukraine security services to continue to uphold their responsibilities under the Vienna convention for the protection of diplomatic and consular missions," Kirby stressed.
He also mentioned violent protests "at Ukrainian facilities in Russia, some of which have reportedly been vandalized," apparently referring to the response protest in front of the Ukrainian embassy in Moscow. There, angry activists threw eggs at the facility, but because of a double-line police cordon none of the missiles reached embassy grounds.
"We condemn any violent acts or vandalism directed at diplomatic or consular facilities, whether in Ukraine, Russia, or anywhere else in the world," Kirby added.
The Ukrainian Ministry of Interior has condemned the extremists' actions, calling on citizens to abstain from acting provocatively towards foreign diplomatic missions.
"The actions of those thugs who attacked the embassy and the consulates, bursting into their premises and ripping the flags off, those actions are outrageous," Russian Foreign Minister Sergey Lavrov said.
The Russian Foreign Ministry filed a note of protest with the Kiev authorities regarding the attacks on its diplomatic missions.
Recently, Russian Foreign Ministry spokesperson Maria Zakharova accused the US State Department of attempting to influence a Russian court's decision in the Savchenko case, saying that "pleas to free a defendant means exercising direct pressure on a court in order to influence its decision."
"His [John Kerry's] department doesn't take any interest in the investigation of the murder of two Russian journalists," Zakharova wrote in a Facebook post, noting that the victims of the Ukrainian attack "were journalists who were doing their job at the moment they were killed." Washington only employs human rights rhetoric as a political tool, she added.
On Friday, Russian President Vladimir Putin presided over a meeting of the National Security Council, paying specific attention to the security of Russian diplomatic missions abroad, following the provocations in Ukraine.