Flares, eggs, stones: Protesters attack Russian embassy twice in Kiev (VIDEO)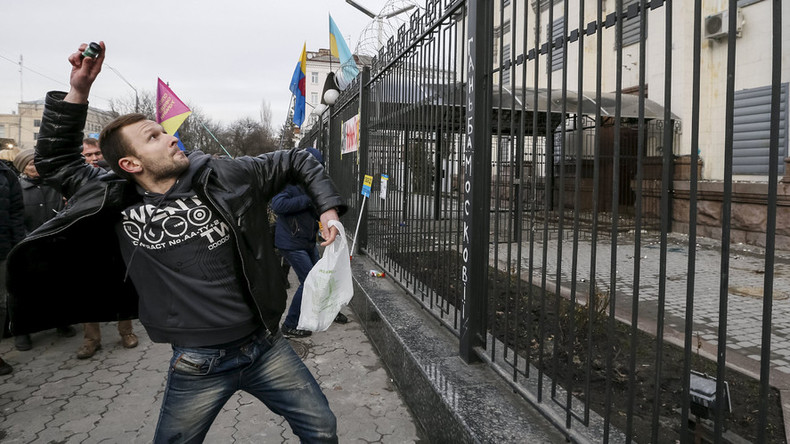 The Russian embassy in Ukraine has been attacked twice in the last 24 hours, allegedly by people demanding to free pilot Nadezhda Savchenko. The embassy's cars were torched overnight, followed by eggs and stones being thrown at the building.
The Russian embassy filed a protest to Ukraine's Foreign Ministry after an attack on its building and diplomatic staff cars parked nearby. A group of unknown people wearing balaclavas, armed with baseball bats, smashed three cars and threw flares and smoke bombs at the embassy in the early hours of Sunday, according to Oleg Grishin, spokesperson for the embassy.
Embassy security had to open fire into the air to deter the attackers. A video posted on YouTube in the wake of the attack says it was triggered by the "illegal detention" of Savchenko and targeted cars with D001 number plates that "belong to the Kremlin officials."
Ukraine's police have launched a criminal probe over the hooliganism.
Later on Sunday, around 100 people gathered in front of the building and some began tossing eggs. People were waving Ukrainian flags and holding banners reading "Free Nadezhda".
The attack took a violent turn when stones were thrown. Several windows and CCTV cameras were broken.
"People are throwing stones at the embassy building. One person tried to break into the territory of the diplomatic office," Grishsin told media.
Protesters were sticking placards saying "#Free_Savchenko" and "Nadya, you must live" on the embassy fence.
On Sunday, a number of Ukrainian cities witnessed demonstrations in support of the detained pilot, including several hundred people gathered on Kiev's Independence Square.
In response to the attack on the Russian embassy in Kiev, several dozen activists in Moscow gathered for a peaceful rally in front of the Ukrainian embassy, holding banners in support of Russian-Ukrainian relations. Some of the activists could not contain themselves and threw eggs at the Ukrainian embassy, but none managed to hit the building. Following a few hours of picketing, the demonstrators dispersed quietly on their own.
The case of Nadezhda Savchenko, a Ukrainian pilot currently on trial in Russia over complicity in the killing of Russian journalists and crossing the border illegally, has stirred up much controversy both in Ukraine and Russia.
Savchenko, 34, regarded as a political prisoner and hero by many people in her homeland, has gone on another hunger strike to protest the length of the legal proceedings. She was about to deliver a final statement on March 3, but the court session was postponed until March 9.
During her previous hunger strike that lasted 83 day Savchenko demanded release from detention. The plea wasn't fulfilled despite a request sent by Ukrainian President Poroshenko to the Kremlin.
Russian prosecutors are demanding a 23-year sentence for the pilot.