We aren't 'little brown brothers of America,' don't lecture us – Philippines FM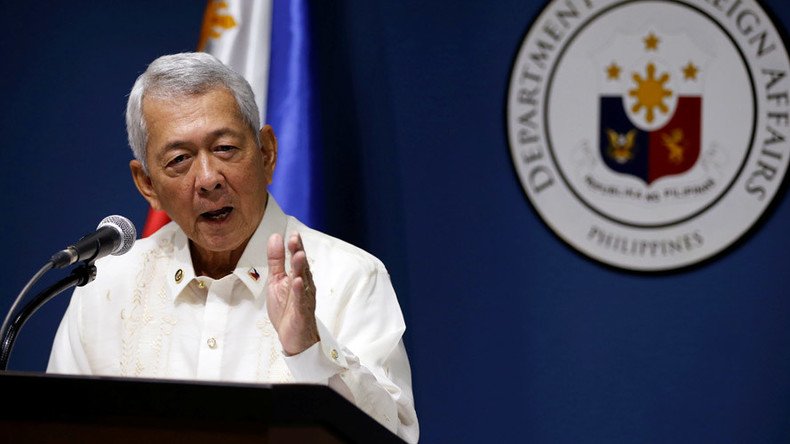 The Philippines foreign minister has warned that his country will not be treated like a "little brown brother" to the US, and will not be lectured on human rights. It follows inflammatory statements made by the nation's president about US President Barack Obama.
Speaking in Washington on Thursday, Foreign Minister Perfecto Yasay said: "I am asking our American friends, American leaders, to look at our aspirations. We cannot forever be the little brown brothers of America...we have to develop, we have to grow and become the big brother of our own people."
"You [have to] manage it correctly. You do not go to the Philippines and say, 'I am going to give you something, I am going to help you grow, but this is the checklist you must comply with – we will lecture you on human rights,'" he said, as quoted by Reuters.
Yasay went on to stress, however, that the country's president is still "firmly committed to keep and respect alliances, including that with the United States."
But relations between President Rodrigo Duterte and Barack Obama are anything but happy at the moment. Duterte called his US counterpart a "son of a b*tch/whore" less than two weeks ago, after hearing news that the US leader was to address the country's 'war on drugs' which has led to the deaths of more than 2,400 people. The comment, which Duterte later said was not directed towards Obama, led to the White House canceling scheduled talks between the two leaders.
The US had previously said it was "deeply concerned" about the campaign against drugs, and urged the government to ensure that law enforcement officers comply with the country's "human rights obligation."
Yasay insisted on Thursday, however, that many of Duterte's recent comments and actions regarding the US have been misunderstood, and rejected criticism of the president's controversial war on drugs, stating that Manila would never condone illegal killings.
He also claimed that Duterte's call for the withdrawal of US special forces from the southern Philippines was only a temporary measure aimed at keeping them safe, while Philippines forces took part in an offensive against Abu Sayyaf militants.
He also said that Duterte's opposition to joint maritime patrols with the US concerned the Philippines' "exclusive economic zone" – not joint patrols within 12 nautical miles off its coast.
Duterte, who came to power in May on a promise to wipe out drugs and dealers, has come under fierce criticism for his war on drugs. As of last week, police had killed 1,011 suspected criminals since June, and an additional 1,391 deaths were "under investigation," AFP reported.
Despite widespread criticism of the campaign, Duterte has vowed to continue the war on drugs until the end of his term, and has shrugged off accusations that he has violated human rights. He has also promised law enforcement that they will not be held criminally liable while acting in his campaign.
You can share this story on social media: