3 Syrians suspected of ISIS links arrested in German refugee camps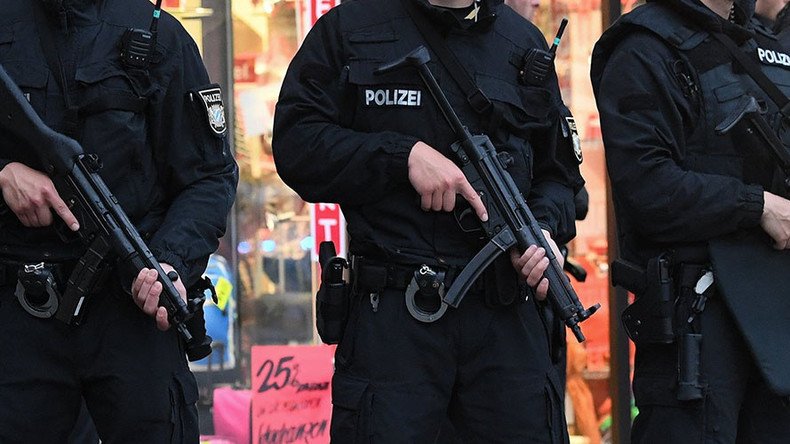 Three Syrian nationals suspected of having ties with Islamic State (IS, formerly ISIS/ISIL) have been arrested after federal police raided refugee camps in northern Germany early on Tuesday, according to prosecutors.
They suspect that the three men, aged between 17 and 26, had been dispatched to Germany in November 2015 "to carry out a mission that they had been informed about or to wait for further instructions" from the terror group, Reuters reported.
"Based on the information that the Federal Crime Office has so far been able to obtain, the three are strongly suspected of coming to Germany in November 2015 on orders from Islamic State," the Federal Prosecutors' Office was cited as saying.
"Concrete missions or orders have not so far been found in the course of investigations carried out so far," the news agency reported, citing prosecutors.
One of the suspects, identified as Mahir Al-H., allegedly became a member of IS in September 2015 and received weapons and explosives training in Raqqa, the group's de facto capital in Syria. In October the same year, he and the two of the other suspects, Mohamed A. and Ibrahim M., also allegedly joined the terrorist group. IS allegedly provided the three with passports, some $1,000 in cash and cell phones with a special communications program. The suspects then allegedly traveled through Turkey and Greece before arriving in Germany in mid-November 2015.
Arrests were made as investigators and the GSG9, a German anti-terror unit, ransacked three refugee shelters and several apartments in the states of Lower Saxony and Schleswig-Holstein, according to German news outlet Die Welt. Citing Federal Criminal Police Office (BKA) spokeswoman, the newspaper states that police found several mobile phones, computer hard-drives and documents, allegedly containing terrorism-linked data, at the locations. It was not clear from the documents obtained where the attacks would have taken place.
According to Die Welt, investigators have reportedly been observing the detained for several weeks, wiretapping in their phone conversations following corresponding information from the German intelligence service. An investigation has been launched in order to determine whether the allegations that those detained had terrorist-links prove to be true.
The BKA recently received more than 400 reports on refugees suspected of being radicalized, Die Welt reports, however, it states that investigations were launched in only 60 of these cases.
Germany witnessed a number of terror-related attacks this summer. On July 24, a 27-year-old Syrian refugee, who had pledged allegiance to the leader of IS, detonated a bomb in the Bavarian town of Ansbach, killing himself and injuring 15 people. On 18 July 2016, a 17-year-old refugee injured five people when he attacked passengers with a knife and hatchet on a train near Wuerzburg. In June, German police arrested three Syrian men on suspicion of planning a terrorist attack in the city of Dusseldorf, and in August another Syrian refugee was detained in Rhineland-Palatinate based on testimony of an imprisoned asylum seeker.
Last week, German Interior Minister Thomas de Maiziere told German daily Bild that some 520 people in Germany are capable of committing "unexpected" and potentially "high-profile" terrorist attacks inspired by Islamism, calling the current number of potential terrorists in Germany the highest in history.
"Today, the threat comes from both hit-teams [arriving in Germany] from abroad and radicalized lone wolfs in Germany […] Both threats are now very real," De Maiziere emphasized.
You can share this story on social media: