Refugees in Germany go on 'vacation' to war-torn homelands – report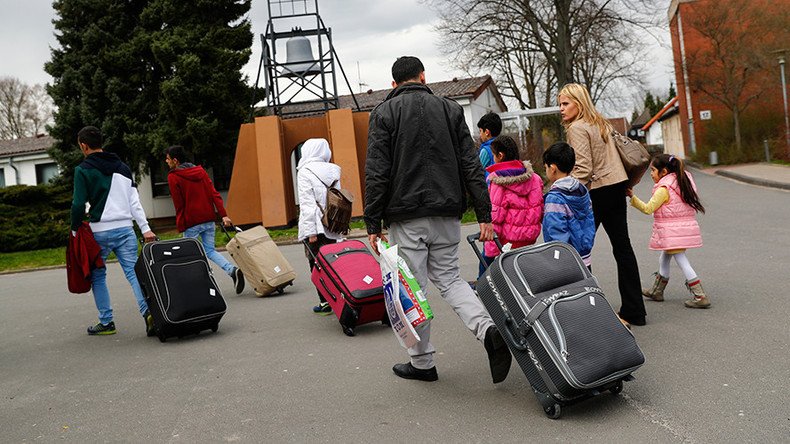 Asylum seekers from Syria, Iraq and other war-torn states who are registered as refugees and receive social benefits in Germany do not hesitate to opt for a "vacation" in their war-ravaged countries, a German media report has discovered.
The information was unveiled by the outlet Die Welt am Sonntag, citing its own investigation. The inquiry included testimonies from registered asylum seekers in Germany who are entitled to so-called HARTZ-IV social benefits. Some of them confirmed to the newspaper that they "traveled for a short period of time back to countries like Syria, Afghanistan or Lebanon."
The paper reports that the situation has been witnessed in Berlin, but it is alleged that similar things are occurring in other Federal States of Germany.
"There are such cases," an unnamed spokesperson for the German Federal Employment Office (BA) confirmed to the publication. The representative, however, stressed that no official numbers are available.
"We do not conduct any analysis or statistics on this subject and therefore we do not have any information," the source added. The body is now trying to figure out the number of refugees opting for such a "vacation" in their homeland.
According to the current rules applying to asylum seekers claiming social benefits in Germany, they are eligible to leave the country for a total of 21 days per year. Migrants however are not obliged to report to authorities where they are traveling, but merely when and for how long.
"There is no legal ground to demand that information from him," BA said, as quoted by Die Welt am Sonntag. Should authorities still get aware of a refugee heading back to states like Syria or Iraq, they are "not allowed to pass that information to other authorities due to the data privacy."
However, it was reported that back in June the German Migration and Refugees Office (BAMF) called on State Employment agencies to report such cases. The agency made it clear that a "medical case" in the family of a migrant can be viewed as an exemption.
"In the case, however, when the journey is being conducted for leisure purposes, this may be an indication that the refugee fears no persecution," BAMF added as quoted by the German outlet. That would in return lead to stripping of asylum status.
Armin Schuster, who is a German MP in the parliamentary committee for the interior said, "if true, that leaves one speechless." The official also demanded that any such journey should be approved by BAMF.
Germany's welcoming refugee policy, pushed forward by Chancellor Angela Merkel, has long been criticized by both her political rivals and allies. In July the Federal Criminal Police (BKA) revealed that the body has information about 410 leads on possible terrorists among asylum seekers in Germany. Germany has been hit by several violent attacks this summer, with three of them committed by refugees. In two cases the assailants pledged allegiance to Islamic State (IS, formerly ISIS/ISIL).
You can share this story on social media: