France & Germany mull new defense plan to 'trigger EU ops more easily'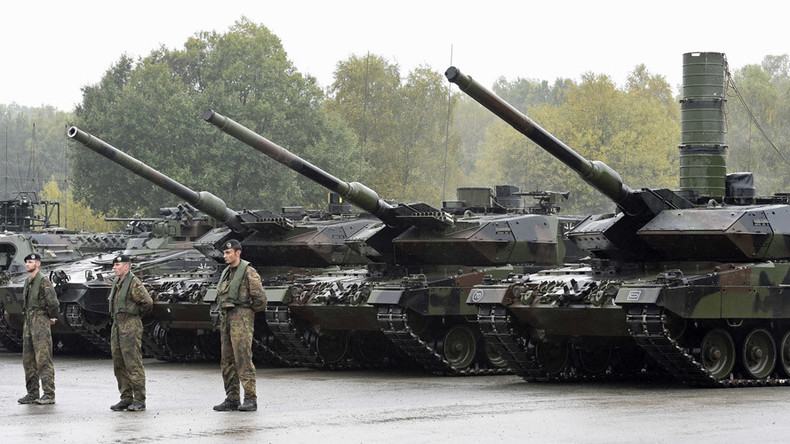 Paris and Berlin are planning to strengthen Europe's defenses by establishing a joint military headquarters and completely unifying the EU's armies, allowing the bloc "to trigger EU operations more easily," media report.
A six-page document outlining the plan prepared by French Defense Minister Jean-Yves Le Drian and his German counterpart, Ursula von der Leyen, will likely be distributed among the delegations of an upcoming EU meeting in Bratislava, according to Sueddeutsche Zeitung, which obtained the paper.
The proposal includes setting up a "joint and permanent EU military headquarters" to oversee various European deployments overseas. The French-German paper also mentions building a common satellite surveillance system and forming all-Europe logistics and medical commands.
Most notably, there would be "a tighter circle" of EU countries for some military projects or missions, when gaining unanimous agreement from all members has proven impossible, the newspaper's report added.
It also discusses establishing a European officer school or introducing a unified European curriculum for national military schools in order to promote what the paper called "corporate spirit."
The document would lay the foundations for "considering a relaunch of European defense," a French Defense Ministry official told AFP.
The primary objective is to make European military policy "more active and more useful without substituting it for national defense bodies which remain, by definition, the key to the security of EU member states," a source in Le Drian's staff said.
"What we are looking for is to trigger EU operations more easily," he added, without revealing any of the plan's details. He stressed that document contains "concrete" proposals and not just "grand ideas."
Minister von der Leyen said that European discussions on a common military have long been "paralyzed" by the UK, but now, in post-Brexit Europe, Paris and Berlin appear to be willing to play leading roles in shaping the EU's defense policy.
The purported proposal might gain momentum, as some European governments have already called for creating a joint EU military. Hungary and the Czech Republic have previously explicitly said they were in favor of such a move.
In June, Elmar Brok, the head of the European Parliament Committee on Foreign Affairs, told Die Welt EU that unifying the EU's armed forces would "strengthen the role of Europeans in [global] security and defense policy and make Europe fulfill better its responsibilities in the world." http://www.welt.de/politik/ausland/article156566476/Brok-fordert-mehr-militaerische-Zusammenarbeit.html