Alpine cliffhanger: 33 stranded overnight in scary Mont Blanc cable car drama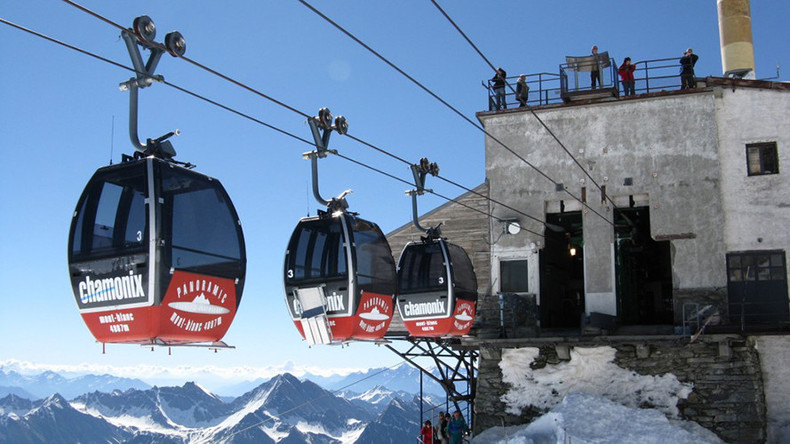 Over a hundred people became stuck above Mont Blanc in the Alps on Thursday after a cable car system malfunctioned. The rescue operation was suspended during the night, leaving 33 people stranded. The repair was successfully completed on Friday morning.
READ MORE: Cable car falls, injuring & trapping tourists near hilltop Indian temple
A "technical incident" led to 110 people being temporarily stuck in a number of cabins of The Vallée Blanche Cable Car, France's Interior Minister Bernard Cazeneuve said. Four helicopters were deployed and rescued 65 people before night fell.
The visitors' 5-kilometer ride, which usually takes 35 minutes, abruptly stopped at 3:50 p.m. local time after cables tangled in high winds, France 3 TV reported.
The High Mountain Gendarmerie Platoon of Clamonix and the mountain group of firefighters of Haute-Savoie took part in the rescue operation.
Read more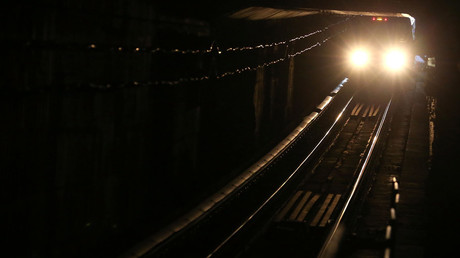 The stranded tourists were later aided by an Italian rescue team, which managed to free 12 from the trap, Prefect of Haute-Savoie Georges-François Leclerc said.
Rescue workers delivered blankets and food to the trapped people and stayed with them overnight.
The rescue operation resumed at first light on Friday morning and the remaining passengers were brought safely to the ground after the tangled cables were repaired.
The Vallée Blanche Cable Car rides between the Aiguille du Midi and Helbronner peaks at an altitude of 3,000 meters.
The cable car entered service in 1958. Today's incident is the second major one since 1961, when the cable was badly damaged by a Republic F-84F Thunderstreak of the French Armée de l'Air. Three cars crashed and six people were killed, while the damaged plane landed safely.
READ MORE: World's highest & longest glass bridge closes indefinitely 2 weeks after grand opening