154 people stuck on train in underwater tunnel to DC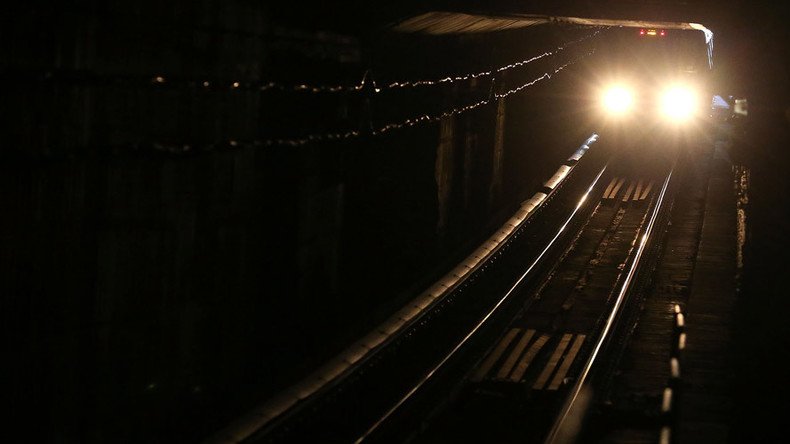 A day after leaders for the Washington Metro system came under fire in Congress for its dysfunction, a train with 154 passengers aboard lost power and became stuck in an underwater tunnel outside the Rosslyn Station.
The train is one of the new 7000-series cars that the Washington Metropolitan Area Transit Authority (WMATA) introduced in September 2015. There are only four 7000-series trains in service.
The tunnel between the Foggy Bottom ‒ on the west side of Washington, DC ‒ and Rosslyn ‒ in Arlington, Virginia ‒ stations is a major chokepoint for the 40-year old subway system, and is one of only two places where Metro crosses the Potomac River into Virginia. The underwater tracks service the Blue, Orange and Silver Lines.
Ambulances are staging outside Rosslyn Station, although there are no reports of injuries, WTTG reported. Another train is on the way to rescue the trapped riders.
Trains were single-tracking to get around the stuck train, but service has been restored, WMATA said on its website.
Based on passengers' tweets, the shiny, new train was stuck in the tunnel for nearly an hour and a half before it was "moved to the yard - out of service," WMATA tweeted.
On Wednesday, Metro General Manager Paul J. Wiedefeld and Board Chairman Jack Evans headed to Capitol Hill, where they testified in a hostile hearing before the House Oversight subcommittees on government operations and on transportation and on transportation and public assets.
The two Metro officials sought to explain an unprecedented 29-hour shutdown of the entire 117-mile subway system in mid-March, as well as to request governmental money for WMATA's operating budget, as the system does not have a dedicated funding source.
"All I'm asking you for is $300 million, which is your fair share, given the fact that we transport 50 percent of your workforce every day," Evans shouted at the representatives while pounding the table, according to the Washington Post. "You want there to be safety? You want this to be reliable? Or do you just want to leave here and do nothing?"
The money, if it were to be appropriated by Congress, would go towards the $1.7 billion operating budget, and is roughly equivalent to the amounts that the District, Maryland and Virginia contribute.
But committee members didn't seem eager to fund the beleaguered system, arguing that the safety and infrastructure problems that have become systemic over the last decade or so proved that the agency did not deserve more money.
"I'm not going to bail you out," Representative John Mica (R-Florida), the chair of the government operations subcommittee, said. "I'm not here to make up for bad management. I'm not here to make up for a poor safety record. I'm not here to make up for a lack of action."
The Florida congressman also called Metro "the most screwed-up mess I've ever seen in business or government."
Metro's admission that it doesn't expect to spend its entire capital improvements budget for this fiscal year, which includes money from Congress, will likely hurt WMATA's ability to gain more money from lawmakers. The revised projections from Metro's financial staff say that the agency will likely spend $900 million to $1 billion of its $1.2 billion budget, WTOP reported.
Finances aren't the only issue for Mica, who was deeply critical of Metro's culture of passing the buck and lack of consequences. He told Wiedefeld: "You need to get in there and fire people and get that place in order." The general manager has been on the job for all of four months.
Wiedefeld's first major break from previous WMATA administrations was to shut down the system on March 16 for an emergency inspection of approximately 600 jumper cables. The move was announced the day after a cable fire broke out in a tunnel at McPherson Square station about an hour before Metro was set to open due to a malfunction in the jumper cables that bridge a gap in the electrified third rail.
The cables were the same type that caught fire in January 2015 near L'Enfant Plaza, when a similar "short circuit" caused electrical "arcing." Smoke quickly filled the tunnel and the station, killing one woman and sickening scores of others.
Inspectors found and replaced 27 cables that required immediate repairs during the 29-hour closure.
You can share this story on social media: