World's highest & longest glass bridge closes indefinitely 2 weeks after grand opening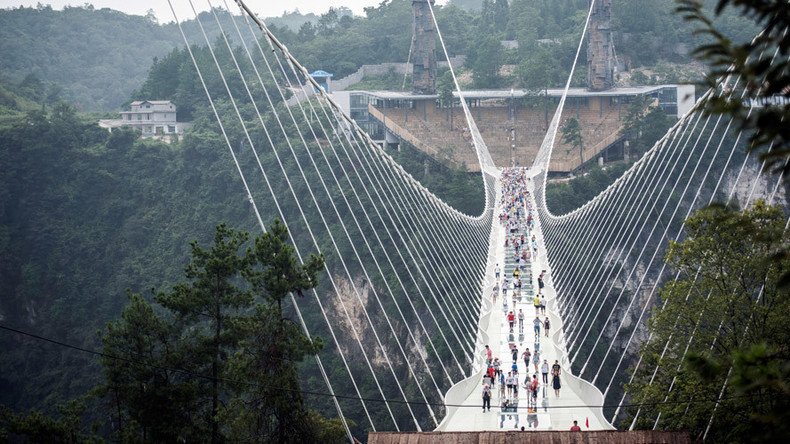 A true architectural wonder – the world's longest and highest glass-bottomed bridge which provides visitors with magnificent views of China's Zhangjiajie mountains – has been closed indefinitely just two weeks after its opening.
The record-breaking structure which gives even the most robust adrenaline junkies the chills, was closed on Friday – just 13 days after its grand opening in China's Zhangjiajie Grand Canyon, authorities said.
READ MORE: China's terrifying cliffside glass skywalk opens, with 4,600 ft drop below
On Thursday officials posted an announcement on the Chinese microblogging site Weibo, saying the bridge has been closed due to the "urgency to improve and update" the construction. The officials said no damage had been done to the bridge and it just needed upgrading.
Meanwhile a spokesman from the Zhangjiajie Grand Canyon's marketing and sales department told CNN the tourist attraction had been "overwhelmed by the volume of visitors." While the bridge is limited to 8,000 people a day, ten times the number of visitors wanted to get onto the skywalk on a daily basis, the official said.
The bridge's closure prompted disappointment from its would-be-visitors."I have booked everything and now you are saying you are closed ... are you kidding me?" one user wrote in response to the authorities' announcement.
The date for the bridge's reopening is yet to be announced.
The 430-meter-long (1,400ft) skywalk, which was designed by Israeli architect Haim Dotan, is suspended some 300 meters (985 feet) above the ground. Made of 99 panels of clear glass, it hangs between two mountain cliffs in Zhangjiajie, Hunan province. Not only does the transparent skywalk allows its visitors to enjoy exceptional scenery from a high vantage point, but it also provides the chance to test one's nerves.
You can share this story on social media: