China's terrifying cliffside glass skywalk opens, with 4,600 ft drop below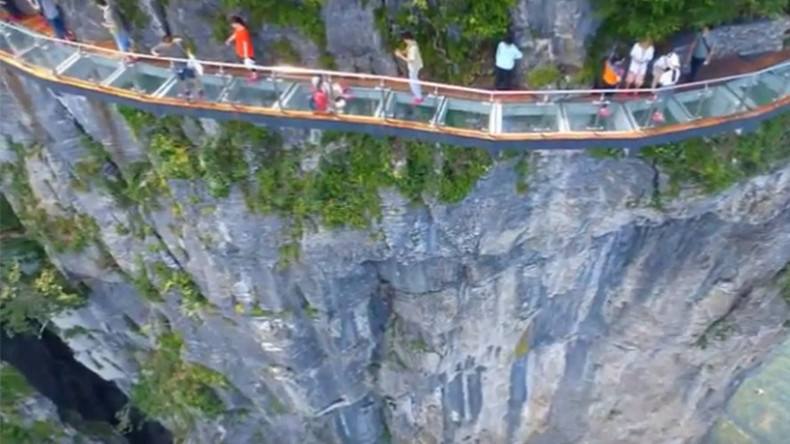 China has unveiled a new, frighteningly high glass skywalk wrapped around a cliff on Tianmen Mountain in the southern province of Hunan.
The 100 meter (328 foot), belly-flop inducing 'Coiling Dragon Cliff' walk has a 4,600 feet (1,402 meter) drop, and opened for business on Monday.
Brave visitors can see all the way down to the bottom of the cliff as they stand on the glass path, if they can handle the risk of vertigo. The view from that high above sea level is said to be stunning, and more than a little terrifying.
Tianmen Tongtian Avenue can be seen below, which features a staggering 99 turns, People's Daily reports.
Visitors could be seen testing out the walkway on Monday, with some taking fun and risky selfies, while others clung to the cliffside and avoided looking down altogether.
The walkway is in Hunan's Zhangjiajie National Forest Park, home to a few other exciting features. The Tianmen Mountain is home to two other skywalks.
The world's largest glass-bottomed bridge was set to open at the park in June. It overlooks the Zhangjiajie Grand Canyon and hangs more than 980 feet over the canyon's floor – but is yet to be opened.
A glass bridge in Shiniuzhai National Park, also in Hunan, drew controversy in October 2015, when terrified tourists noticed cracks growing in the glass beneath their feet.
Read more: Skywalkers: China builds terrifying glass bridge over giant canyon (VIDEO)
The local tourism bureau said the cracks were a result of a tourist dropping a steel mug on the bridge, and that they only occurred on one of the three layers of glass on the bridge.
Let's just hope the Coiling Dragon Cliff walkway has been fully tested before it opened.
You can share this story on social media: