Do look down: China unveils world's longest & highest glass bridge (VIDEO)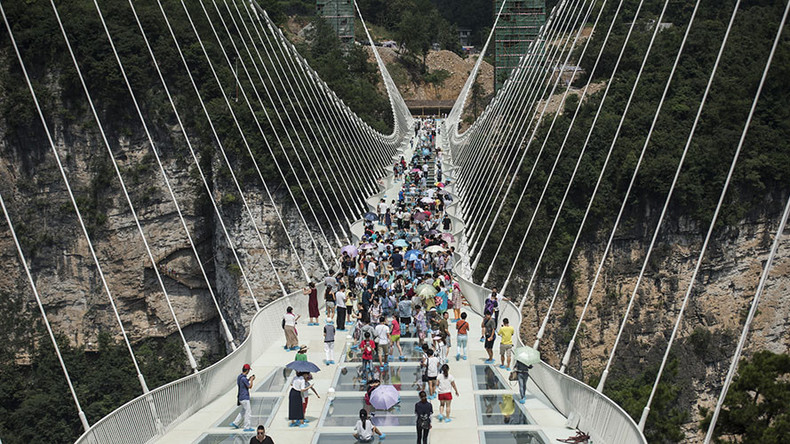 The long-awaited, awe-inspiring glass bridge in China's picturesque Zhangjiajie mountains, which can make heads spin after just one look, has been officially opened to all those eager to test their nerves a bit.
The fully-glass structure connecting the two peaks that inspired James Cameron's movie, Avatar, was officially unveiled to visitors on Saturday.
The true architectural wonder immediately attracted thousands of the bravest of the brave, who started queuing up the night before the grand opening to be the first to enjoy the views of the green valley from an exceptional vantage point.
"I wanted to feel awe-inspired by this bridge. But I'm not afraid – it seems safe!" one visitor told AFP.
"It's crowded today and a bit of a mess. But to be suspended 300 meters in the air, it's a unique experience," said another.
The 430-meter-long (1,400ft) skywalk, which was designed by Israeli architect Haim Dotan, is suspended some 300 meters (985 feet) above the ground. It is considered to be the highest and longest glass-bottomed bridge in the world and cost an estimated $3.4 million to build.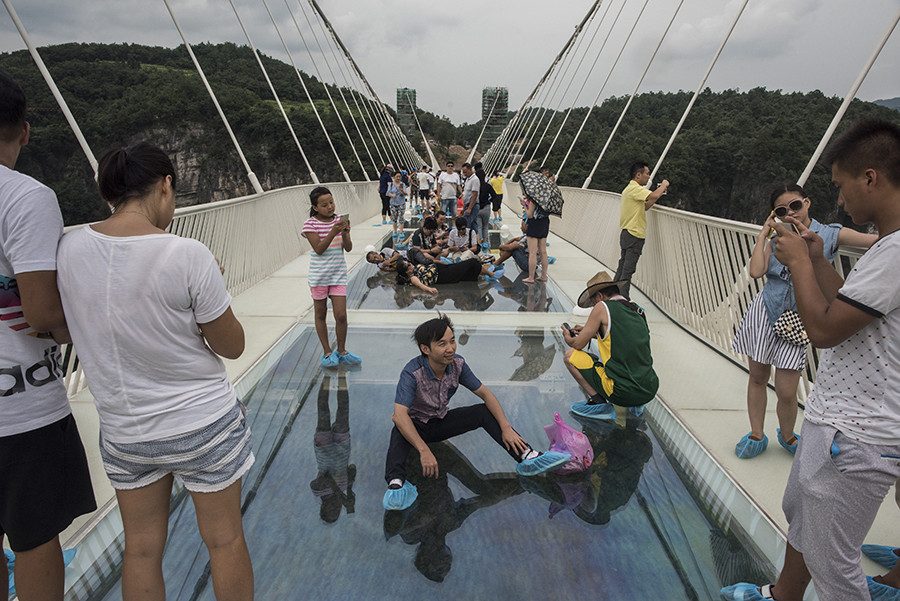 Although the bridge's incredible height and transparent structure do look frightful and might take one's breath away, officials have been doing everything in their power to dispel any fears and concerns by holding special events to demonstrate its safety. The activities were not for the faint of heart, however, as one saw visitors attempting to smash the bridge's glass with a hammer. Earlier this year, officials even drove a car full of passengers across the transparent wonder.
Taking some precautions won't hurt, however. Using selfie sticks and wearing stilettos are prohibited on the bridge.
Made of 99 glass panels, the bridge can bear up to 800 people at the same time, a Zhangjiajie official told China's state news agency, Xinhua. Visitors are strongly encouraged to buy tickets in advance, as only some 8,000 people each day will be able to go through the spine-tingling experience, which costs 138 yuan ($20) per person.
Adrenaline junkies for whom just walking along the bridge is not nerve-wracking enough will be able to try bungee jumping or zip-line riding from its heights.
Glass-made bridges are a popular tourist attraction in China, and events like yoga demonstrations and weddings have taken place on one such bridge in the past.