'Ridiculous to say Assange faces no threat' – WikiLeaks founder's advisor to RT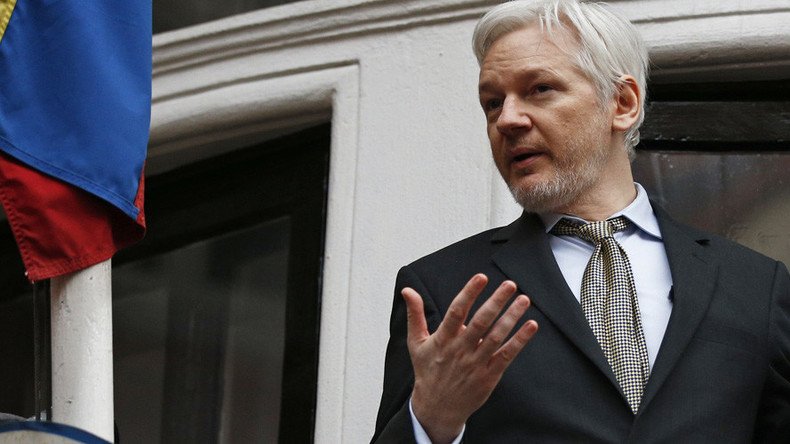 Comments insisting that WikiLeaks founder Julian Assange faces no threat should he be extradited to Sweden are "ridiculous," Sarah Harrison, a WikiLeaks editor and Assange's advisor, told RT following a press conference by Swedish prosecutors on Wednesday.
According to Harrison, who was present at the hearing, the prosecutors wanted just to restate their position on the Assange case once again ahead of a documentary that looks into this case and the prosecutors' handling of it. She added that the documentary will be aired by the Swedish SVT channel later Wednesday.
The WikiLeaks editor lashed out at the Swedish prosecutors, saying that it was "telling" that they began their press conference by saying that they had no new information.
Swedish prosecutor Marriane Ny said during the press conference that she has no reasons to believe that there is an actual threat to Assange's security in Sweden. At the same time, the prosecutors refused to provide any guarantees that the WikiLeaks founder will not be extradited to the US by saying that it will depend on the decision of the Swedish government.
"There have even been politicians talking about illegally droning Julian. So to say there is no threat is a ridiculous comment," Harrison told RT.
She also said it is "sad" that the Swedish Prosecutor's Office continues to dismiss a report by the UN Working Group on Arbitrary Detention, which ruled that Assange had been subject to arbitrary detention by the UK and Swedish authorities.
Harrison also stressed that any developments in Assange case in Sweden "will not change the fact that [Assange faces] threats from the United States and he will have to remain in that [Ecuadorian embassy] room until the UK allows him a safe passage."
Time Assange spent in Ecuadorian embassy is not equivalent to prison term – prosecutors
The time that Julian Assange spent in the Ecuadorian embassy will not be taken into account in determining his sentence, Swedish prosecutors said during the Wednesday press conference, adding that the last outstanding allegation against the WikiLeaks founder carries a sentence that could amount to a prison term between 18 months and two years.
The statement was made despite the fact that the UN ruled in February that Assange's life in the embassy equals to arbitrary detention "by the Governments of Sweden and the United Kingdom."
Last standing allegation carries sentence of 18months to 2yrs, time #Assange spends in#Ecuadorean Emb not to be taken into account

— Anastasia Churkina (@NastiaChurkina) September 7, 2016
The persecutors also stressed that, in case of rape, a perpetrator should be prosecuted regardless of whether a victim reports the case or not, adding that Assange is still suspected of "non-aggravated rape." The statute of limitations for this crime is 10 years and the Assange case expires in 2020, they also confirmed once again.
They also emphasized that Assange should be necessarily questioned by Swedish prosecutors in person, adding that any other options, including Assange being questioned by phone or by some other prosecutors, would lead to inevitable "loss of quality."
#Swedish prosecutor Marianne Ny: if not "our own" investigator conducts an interview with #Assange, this would mean a "loss in quality"

— Anastasia Churkina (@NastiaChurkina) September 7, 2016
The prosecutors also once again blamed the Ecuadorian embassy for the delays with the Assange interview and stressed that all statements concerning the fact that Assange made himself available for the interview many times are wrong.
Journo: docs show that #Assange has made himself available many times, #Swedish prosecutors: no, he has not...

— Anastasia Churkina (@NastiaChurkina) September 7, 2016
Ecuador agreed to allow Sweden to question Assange in its London embassy on August 10 after Sweden made a formal request, four years after the initial offer from Ecuadorian authorities that say they have been urging Swedish prosecutors to interview Assange since 2012.
READ MORE: Ecuador allows Sweden to interview WikiLeaks co-founder Assange in its London embassy

The WikiLeaks chief has been living at the Ecuadorian Embassy since June 2012, when he was granted political asylum by the government of Ecuador. The UK police force, which used to watch over the embassy day and night, ended its 24-hour guard last October, stating it would use "overt and covert tactics" to detain Assange instead.
Police insist they are still committed to arresting Assange under a European Arrest Warrant (EAW) issued in December 2010, which seeks Assange's extradition to Sweden to answer questions about rape allegations.
You can share this story on social media: