ISS: Expedition 48 crew touches down in Kazakhstan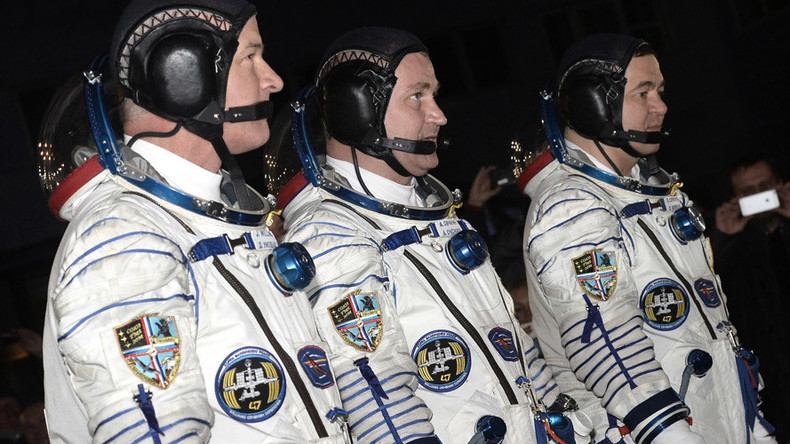 Two Russian cosmonauts and one NASA astronaut have safely landed early Wednesday morning in the Kazakhstan steppes, thus finishing a 170-day mission in space.
The crew of three – Aleksey Ovchinin, Oleg Skripochka and Jeffrey Williams – on Tuesday left the International Space Station (ISS) as the Soyuz TMA-20M spacecraft undocked from the ISS at 21:51 GMT.
The Soyuz spacecraft has landed 148 kilometers (92 miles) from the town of Zhezkazgan in Kazakhstan. According to Russia's Mission Control Center (MCC), the landscape in the area is mostly flat, with no forests, large bodies of water or populated areas.
"The crewmembers' state of health is normal. The space travelers who have returned to Earth will undergo a medical check-up, after which Aleksey Ovchinin and Oleg Skripochka will be brought to Star City by plane, while Jeffrey Williams will take a flight to the US," Russia's Mission Control Center (MCC) told RIA Novosti.
The crew, which was part of the Expedition 48, spent over 170 days in space. Their estimated time flying back to Earth was around three hours.
READ MORE: 'Why the f*** did I go? 'Cause once you lie on the sofa, you're dead': Cosmonauts chat on way to ISS
A total of 200 military personnel, 12 specially equipped Mi-8 helicopters, four Antonov An-12 and An-26 aircrafts, along with a number of other special machinery took part in the search and rescue operation.
Meanwhile, three other space adventurers, Russia's Anatoly Ivanishin, American Kathleen Rubins and Japan's Takuya Onishi will stay on the ISS, until the next expedition arrives.