'Why the f*** did I go? 'Cause once you lie on the sofa, you're dead': Cosmonauts chat on way to ISS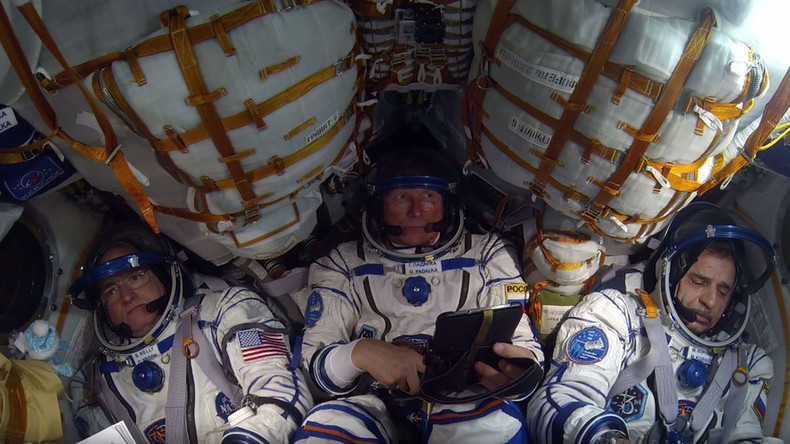 Ever wondered what spacemen think while heading into orbit? Some rather philosophical and yet very down-to-earth insights of two Russian cosmonauts have surfaced online – and they are somewhat eye-opening. "Better than Interstellar," as one Facebook user said.
"Holy moly, guys! A whole year [ahead]," Russian cosmonaut Gennady Padalka is heard telling his colleagues, Russia's Mikhail Kornienko and US Scott Kelly, while the three of them are jammed inside a Soyuz spacecraft on their way to the ISS (International Space Station).
"Don't even remind [me] of that," Kornienko replies.
"You are motherf****** heroes, for f***'s sake. You will be heroes," Padalka goes on in the mix of Russian and English languages, while toying with a tablet device.
"Yes," Kelly says.
The video of the three men's March 2015 journey to the ISS, including the launch, several hours of flight and docking to the ISS was published on YouTube by Up, into space! channel in May. But it resurfaced recently, with the spacemen's conversation during the more than two-and-a-half hour video catching viewers' attention.
Padalka, after Kelly's "Yes," switches back to Russian: "It's all gonna be fine there, don't you worry."
Kornienko: "The team is great, and that's what is most important."
Padalka: "The crowd will be changing constantly. Then [the name of the cosmonaut mentioned can't be heard properly] will fly over, will f*** my brain a bit, but that's ok..."
Kornienko: "Yeah, it's gonna be tough."
Padalka, rhetorically: "But what can we do?"
Kornienko: "Nothing. We'll get used to it. But then [another cosmonaut's name] will come, and we can go home. I'm not even there yet, and I'm already planning to go home!"
Padalka's Russian gets rather emotional: "Oh f***, I always like the f****** sending-off [ceremonies], the launches. And then I think, 'Why the f*** did I go here?'"
The remark by Gennady Padalka, who holds the world record as the man who has spent the longest in space - and that's 878 days, got his colleague shaking with laughter.
Kornienko: "Hahaha, yes. And then the hard working days start, and you're dead in the water."
Padalka: "It's exciting down there, your kids are waving you goodbyes, crying. And I'm thinking – what the f*** do we need it all for?"
Kornienko: "Yeah, when you just come there [to the ISS], it's depressing. And then it gets better... It's normal."
Padalka: "But I'm f****** done! It's the f****** last time."
Kornienko is laughing hard again. It was his colleague's fifth space flight.
"When you shoot up again, you owe me a bottle [of alcohol]," he tells his fellow cosmonaut. "I've heard you saying the very same thing like 10 times already," he adds, before carrying on with his thoughts:
"We live while we work, while we fly. Once you lie on a sofa, you're f****** dead in the water. You have to remember that. Ah, look, 270 kilometers [167 miles] to the ISS. And there, they're already waiting for us. We'll open the cans [preserved foods], have a snack."
Padalka: "F****** lamb! With hot tea."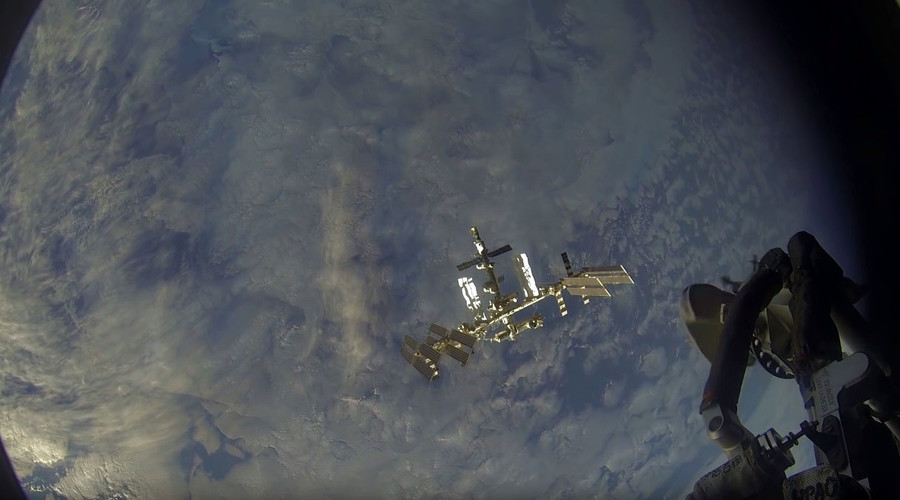 When the video filmed with GoPro cameras ends, eight hours after the launch and two hours after docking with the ISS, the two cosmonauts and one astronaut are seen being greeted at the space station by their Russian and American colleagues ("Welcome into space!, they are heard saying, You're so tanned!").
The newly arrived crew then speak to their families on Earth, but cut the session short:
"We'll just have a quick snack and then get to work! Say hello to my grandson," Kornienko says.