No drama in space! ISS crew members open up about life in orbit (VIDEO)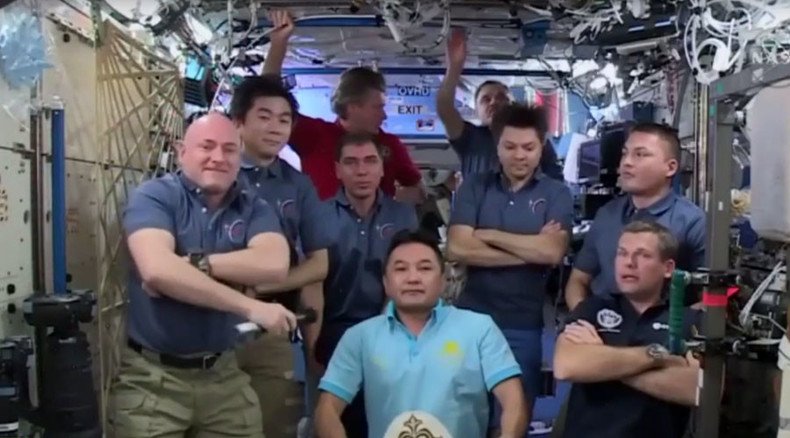 The nine crew members aboard the International Space Station (ISS) have opened up about life in orbit, assuring the media that sharing cramped quarters with people from different cultures is actually a lot easier than it sounds.
It's a situation that most people will never have to face – living, working, and sleeping in the same place around-the-clock. But according to NASA astronaut Scott Kelly, the men get along just fine.
"It may be hard to believe, but there really isn't any drama. We get along really well here," Kelly said in response to a question asked by RT.
He added that "one of the things we've established up here culturally is a level of respect and admiration...for different cultures. And that's what has made this space station program such a great thing and a great success."
This is the first time since November 2013 that nine people are living on the space station, which can accommodate a maximum crew of 10.
But that doesn't mean there aren't struggles and challenges. Kelly, who is halfway through a one-year mission, advised anyone on future long-term missions to "pace themselves," adding that they should have a "good combination of work and rest" when they can.
"I don't think you can do this like you can a six-month mission, where you can wind up being a little bit fatigued at the end. I think with the same exact pace as I did last time [in a shorter mission] I would get to the end and be worn out," Kelly said.
But being worn out is likely a small price to pay if the images tweeted by Kelly are anything to go by. The American astronaut's breathtaking pictures from the ISS have resulted in 391,000 Twitter followers and counting.
However, Kelly said that one of his best moments actually took place on Monday night – proving that even seasoned astronauts can still be awed by the beauty and mystery of space.
"We had some incredible aurora last night like I've never seen before, with regards to how vivid it was," he said.
He added that the crew had "heard a solar storm was on its way...usually we think it takes a couple days between solar activity and an incredible show outside, but in this case it was much quicker."
Those experiences are a dream come true for Kazakh cosmonaut Aidyn Aimbetov.
"My dream has come true. Finally, I'm in orbit. This is a very special feeling. Zero gravity, feeling free. And at the same time I work with a very good team, it works like clockwork," he said.
However, there is still the inevitable shock factor when you arrive on the ISS, experiencing weightlessness for the first time.
"This is such a unique place that it's very difficult to get a sense of what it's like until you get up here," said European Space Agency astronaut Andreas Mogensen.
But that feeling is old news for Roscosmos cosmonaut Gennady Padalka, who is due to return to Earth on Friday. At that point, he will have spent 878 days – almost two-and-a-half years – in space. He currently holds the record for the most time spent in orbit.
And though you might assume the 57-year-old would take a much-earned break upon his return, he says that he looks forward to continuing his work on Earth after going through the rehabilitation process.
The international crew aboard the ISS represent five different space agencies: NASA, the Russian Federal Space Agency (Roscosmos), the Japan Aerospace Exploration Agency (JAXA), the European Space Agency (ESA), and the Kazakh Space Agency.
You can share this story on social media: