'Temer out!' Pro-Rousseff protests rage across Brazil denouncing impeachment (PHOTOS, VIDEO)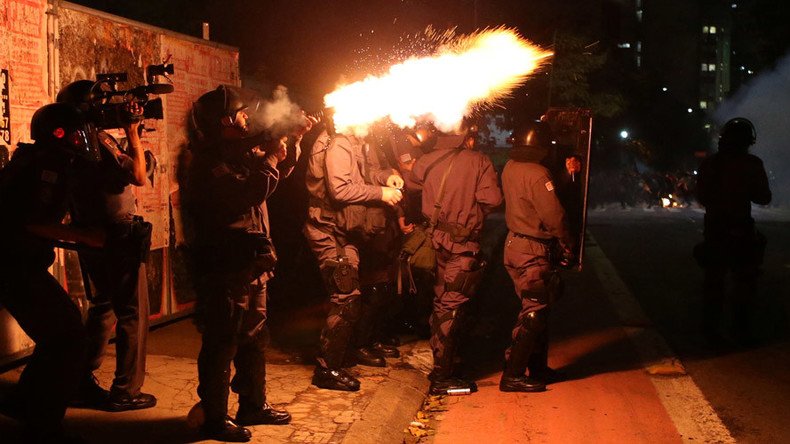 Supporters of Dilma Rousseff staged mass protests following the impeachment of the country's first female president. As Michel Temer took charge of the country, pro-Rousseff rallies took place in at least ten states, with some resulting in violence.
READ MORE: 'Coup against democracy': Bolivia, Venezuela & Ecuador recall ambassadors over Rousseff impeachment
The greatest act of civil disobedience took place in Sao Paulo, where protesters clashed with police on Avenida Paulista, in the downtown area; in Rio de Janeiro, where activists gathered in Cinelandia square; and in Brasilia, where activists rallied in the Praca dos Tres Poderes square.
The Pro-Dilma demonstrations and those against the effective president, Michel Temer, also took place in Santa Catarina, Rio Grande do Norte, Minas Gerais, Rio Grande do Sul, Ceara, Parana and Para.
The biggest standoff took place in Sao Paulo where for a third-day a coalition of leftist groups continued staging protests that end up in clashes with authorities and rival groups. Organized through the use of social media, the Brazil Popular Front and People Fearless movement managed to mobilize thousands for the rally.
Scuffles with police in Brazil's largest city took place as the pro-Rousseff rally was met with equal support by the pro President Michel Temer demonstration.
As the pro-Temer camp celebrated Rousseff's impeachment with cakes and champagne in front of the headquarters of the Federation of Sao Paulo State Industries (FIESP), a pro-Rousseff group gathered near Sao Paulo Museum of Art (MASP). Clashes with police followed.
According to police, at around 8:30pm local time, the pro-Rousseff camp began to "set fire to piles of garbage and attacking police with stones" forcing military police to intervene with tear gas. The statement added during clashes at least one officer was wounded and taken to a hospital.
As scuffles continued protesters trashed shops, bank windows and attacked several bus stations. Some protesters even managed to vandalize police vehicles, Globo reports. They also attacked police lines with firecrackers.
In downtown Rio a protest organized by Frente Brasil Popular and trade unions seen more than five thousand people gather in Praca Floriano Peixoto Square (Cinelandia) to protest the impeachment vote by the Senate on Wednesday.
Shouting "out Temer" the activists held up signs against the new president that was sworn into office until 2019. Activists believe the impeachment was nothing short of a coup.
The protesters walked to the door of the Federation of Industries of the State of Rio de Janeiro (FIRJAN) yelling pro-Rousseff slogans. Along the way, the crowd was accompanied by police as the march went on to close two of Rio's main roads. Protesters began to disperse by 9:00pm after occupying the square in front of the Legislative Assembly of Rio de Janeiro (Alerj).
READ MORE: Brazil Senate votes 61-20 to impeach President Rousseff for breaking budget laws
Thousands have also cheered on Rousseff in Brasilia where the Brazilian Senate voted 61-20 to impeach Rousseff over corruption allegations, following three days of debates. As Michel Temer was officially sworn in as Brazil's new president, crowds in Praca dos Tres Poderes square condemned the lawmakers' decision to oust the democratically elected president.
WATCH MORE:
You can share this story on social media: