'Coup against democracy': Bolivia, Venezuela & Ecuador recall ambassadors over Rousseff impeachment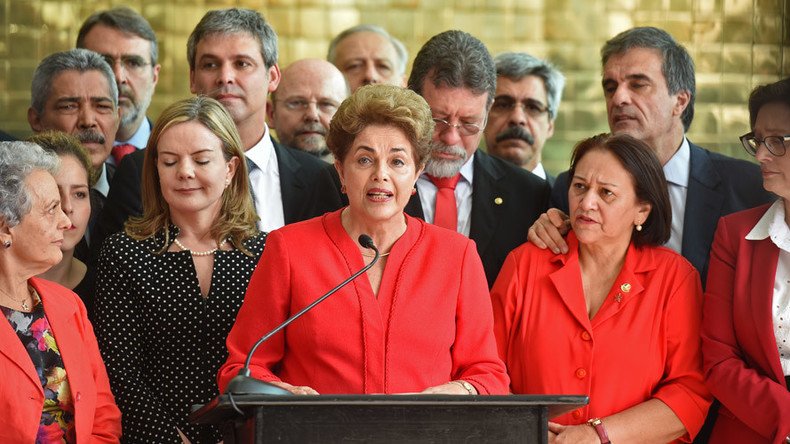 Following Brazilian senators' vote to strip Dilma Rousseff of her presidency, Bolivia, Venezuela and Ecuador announced that they are recalling their ambassadors in protest against what they said was a "coup against democracy."
On Wednesday senators voted to impeach Rousseff, who had been temporarily suspended in May on corruption allegations and illegal manipulations of the national budget. Following the vote and Conservative Vice-President Michel Temer's being sworn in as the new Brazilian leader, several countries across Latin America vowed to remove their ambassadors from Brazil.
Venezuela condemned Rousseff's impeachment saying it will not pursue relations with a government that stemmed from a "parliamentary coup d'etat." Venezuela "has decided to definitively withdraw its ambassador in the Federal Republic of Brazil, and to freeze political and diplomatic relations with the government that emerged from this parliamentary coup," the country's foreign ministry said in a statement.
Ecuador's foreign ministry, in its turn, dubbed Rousseff's ouster "a flagrant subversion of the democratic order in Brazil" saying it is withdrawing its representative to Brazil.
"Given these exceptional facts, the government of Ecuador has decided to call for consultations the charge d'affaires to the Republic of Brazil," Ecuadorian government said in a statement, according to Telesur. Ecuador said that Rousseff's removal from her post was a "spurious" procedure which failed to provide concrete evidence of her actually committing "crimes of responsibility". Ecuador "cannot ignore the fact that many of the decision-makers in Rousseff's impeachment are being investigated for serious acts of corruption," it said in a statement.
Ecuador's president Rafael Correa personally took to Twitter to voice his anger over Rousseff's impeachment: "Never will we condone these practices, which recall the darkest hours of our America."
Destituyeron a Dilma. Una apología al abuso y la traición.
Retiraremos nuestro encargado de la embajada. Jamás cohonestaremos estas...

— Rafael Correa (@MashiRafael) August 31, 2016
Bolivia followed suit saying it is also recalling its ambassador.
"We are recalling our ambassador to Brazil," Bolivian president Evo Morales wrote on Twitter.
Estamos convocando a nuestro embajador en Brasil para asumir las medidas que en este momento se aconsejan.

— Evo Morales Ayma (@evoespueblo) August 31, 2016
"We condemn the parliamentary coup against brazil's democracy. We stand with Dilma, Lula and the population in this difficult time," Morales added referring to former president Luiz Inacio Lula da Silva, who is facing corruption charges.
Condenamos el golpe parlamentario contra la democracia brasileña. Acompañamos a Dilma, Lula y su pueblo en esta hora difícil. #FuerzaDilma

— Evo Morales Ayma (@evoespueblo) August 31, 2016
Bolivia's foreign ministry confirmed the recall saying that the government "calls on all the countries of our region to reject these 'soft' blows to the state ... provoked by an opposition unable to achieve enough votes to form a government," according to AFP.
The government of Cuba also criticized the impeachment describing it as an "imperialist" offensive against progressive governments in Latin America.
The US State Department, however, said strong bilateral ties with Brazil would continue adding that the country's Senate acted within the constitutional framework.
"We are confident we will continue our strong bilateral relationship," said the US State Department spokesman John Kirby. "This was a decision made by the Brazilian people and obviously we respect that ... Brazilian democratic institutions have acted within its constitutional framework."
Meanwhile giving a speech before her supporters in capital Brasilia after the vote, Rousseff denounced the senators' decision to remove her from her post and vowed to appeal her impeachment.
"They decided to interrupt the mandate of a president who had committed no crime. They have convicted an innocent person and carried out a parliamentary coup," she announced. "Right now I will not say goodbye to you. I am certain I can say, 'See you soon!'"
In response to Caracas recalling its envoy and the freezing of relations with Temer's government, Brazil withdrew its ambassador to Venezuela. In light of harsh criticism regarding Rousseff's impeachment Brazil also recalled its ambassadors to Bolivia and Ecuador, Reuters reported.
WATCH MORE:
You can share this story on social media: