Obama must 'listen to me' before discussing human rights – Philippines president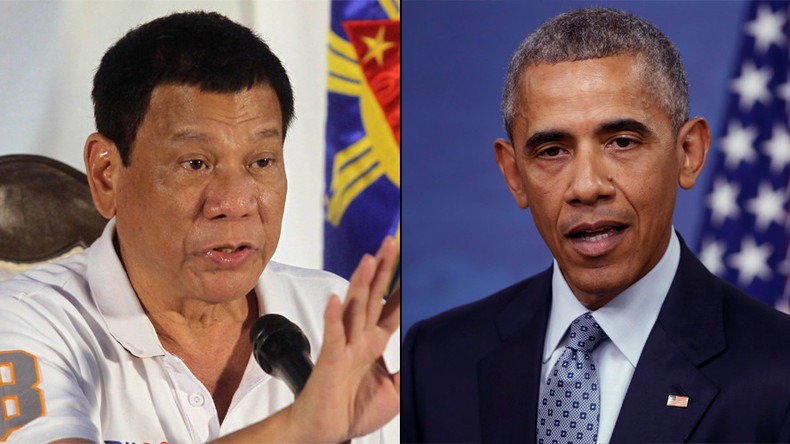 Amid the Philippines president's 'War on Drugs', he says he's prepared to discuss any issues with US leader Barack Obama when they meet next week. However, Rodrigo Duterte has warned that Obama must listen to him first, before bringing up human rights.
When asked if he would be willing to discuss human rights with Obama when they meet in Laos next week, Duterte said it "depends to what degree."
He added that his US counterpart must first fully understand the issues the Philippines is facing.
"They must understand the problem first before we talk about human rights. I would insist, listen to me: this is what the problem is, then we can talk," he told reporters, as quoted by Reuters.
The statements come after Washington expressed concern about Duterte's 'War on Drugs', which has left around 2,000 people dead since he came into office in May.
It also follows a remark by Duterte in which he called the US ambassador to the Philippines the "gay son of a whore."
The White House said on Monday that Obama would raise concerns about Duterte's "recent statements" during their Laos meeting.
Duterte, who came to power in May on a promise to wipe out narcotics across the Philippines, launched an anti-drugs campaign which has so far seen around 2,000 people killed. Nearly half of those deaths occurred during police operations, with the rest in shootings by unidentified gunmen.
On Monday, Duterte took the campaign a step further, placing a US$43,000 bounty on the heads of so-called "ninja" cops who are thought to be protecting drug syndicates.
Last week, a five-year-old girl became the youngest fatality of the campaign.
Despite criticism from the US, UN, Human Rights Watch, and other rights groups, Duterte – nicknamed 'The Punisher' – has vowed to continue the campaign throughout his entire term, saying that drugs have infected "every nook and corner" of the Philippines.
Responding to a statement from UN special rapporteur on summary executions Agnes Callamard, in which she urged the Philippines to halt extrajudicial executions and killings or face punishment for "illegal" acts, Duterte threatened to leave the organization.
"I don't give a sh*t about [the UN]," he said. "They are the ones interfering. You do not just go out and give a sh*tting [sic] statement against a country."