Downing of Russian Su-24 bomber contributed to delay of Ankara's Syria op – report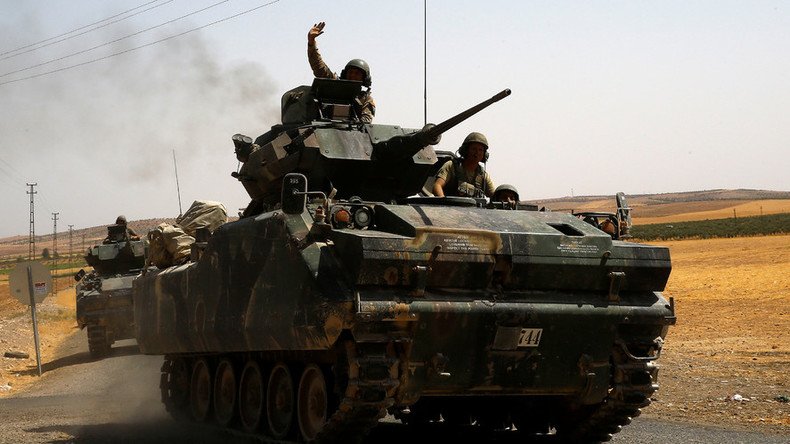 The downing of a Russian bomber by Turkish aircraft in Syria last year was one of the major reasons Ankara delayed its current Syria ground campaign, Turkish Hurriyet daily reports, citing a senior official.
"After the downing of a Russian jet in November 2015, it became practically impossible to implement our plans due to a lack of air cover," Hurriyet quoted an official with the knowledge of the matter as saying.
The recently resolved incident drove a deep wedge between Turkey and Russia back then.
"It wasn't until the recent rapprochement with Russia, in this sense, that the ground incursion could practically go forward," the source said.
Just a day after the Russian Jet was downed on November 24 last year over the Syrian territory by the Turkish planes, Moscow deployed S-400 air-defense systems to its Syrian military base in Khmeimim. Russia warned that it would shoot down any targets threatening the country's aircraft in Syria.
Relations recovered, however, after Turkish President Erdogan apologized, "issuing deep regret," according to the Russian president's press office. Both leaders met in St.Petersburg on August 9 in a bid to further normalize the relations.
The Turkish ground action in Syria was apparently in preparation for a long time.
"The Turkish government has been working on a ground incursion for more than two years. We came close to putting boots on the ground there for over two years. June 2015, Turkey discussed with coalition allies, including the United States, the possibility of a ground incursion to liberate Jarablus from the jihadists," the source told Hurriyet.
Another stumbling block were reportedly high-ranking military Turkish officials with alleged ties to the US-based Turkish cleric Fethulla Gulen, considered by Ankara a mastermind of July's coup.
"They came up with excuses, such as a lack of military capability, to make it impossible for the government to move forward," Hurriyet cited its source as saying.
Ankara's operation in Syria is heavily relying on Turkish special forces, which are forming the backbone of the country's ground troops in Syria. However its ex-chief Semih Terzi turned out to be among the coup plotters during July's uprising against President Recep Erdogan. Terzi was killed during the coup while tens of thousands of military servicemen, police and civil servants were arrested or suspended in the following government crackdown.
The lack of US backing also reportedly played its part in Ankara's failing to foster the incursion in Syria.
"In our discussions with US officials last year, it became clear that Washington did not believe Turkey's plan to be feasible. Their basic argument was that the number of moderate rebels was simply not enough to perform the task of liberating Jarablus and other parts of Northern Syria."
According to Hurriyet, Turkey provided a list of rebel groups that it was relying on and persuaded Washington that the job can be done. The operation started on August 24, driving a serious protest from Damascus.
You can share this story on social media: