Сivilians reported killed as Turkey targets Kurdish positions in Syria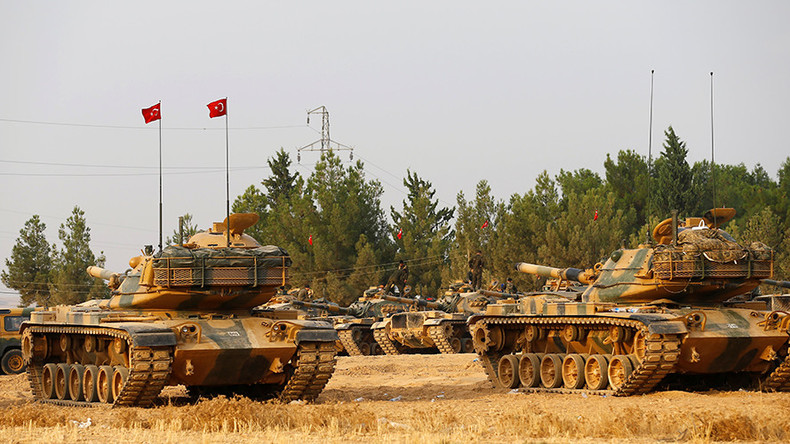 Turkish airstrikes and shelling of predominantly Kurdish positions in northeast Syria has led to civilian casualties, according to representatives of Kurdish-led Syria Democratic Forces (SDF).
At least 15 civilians were killed Sunday in the village of Jeb el-Kussa (Bir Qusa) near the Syrian city of Jarablus as it was targeted by Turkish forces, an SDF representative told Sputnik. Later reports by the agency citing a Kurdish source claimed there were 40 casualties, though it's not clear how many civilians were among them.
The ANHA news agency, citing own correspondent reported that Turkish attacks caused several deaths in Jeb el-Kussa, but did not name the exact number.
Confirmation of the casualties among civilians also came from SDF spokesperson Shervan Darwish to AP, who said that Turkish assaults left "many civilians" dead in a village south of Jarablus.
"The shelling affected two villages - Bir al-Qusa and Sarisat. Most of those killed, initially fled the village of Amarna which was seized by armed groups supported by the Turkish army," RIA Novosti is quoting a Kurdish source as saying.
Meanwhile, a local source told RT that the Turkish attacks resulted in "some casualties" but could not verify as to whether civilians were among them.
Ankara said Sunday that it killed 25 Kurdish fighters, including from SDF during air strikes near Jarablus. The assault came "in response to attacks on advancing Turkish-backed rebels" operating in the area.
Syrian rebels backed by Turkish ground troops have forced Kurds out of three villages, Sputnik is citing the Kurdish source as saying.
"Armed groups supported by Turkey have established control over the villages of Balaban, Amarna and Dabas, south of Jarabulus," the source said.
According to AP, citing own sources the total number of villages gained by Syrian rebels and Turkish forces stands at four.
The areas where the fighting takes place are held by the SDF, which is predominantly compiled of Kurdish troops and is seen by the US as one of the most capable forces in fighting Islamic State (IS, formerly known as ISIS/ISIL).
On August 24 Turkey launched a ground operation in Syria codenamed "Shield of Euphrates."
Ankara said the incursion was targeting positions of ISIS alongside other terrorist organizations, including the Kurdish ones, in and around Jarablus. It also has previously accused the SDF of links to the Kurdish PKK fighters inside Turkey, whom it considers terrorists.
"Some 200 soldiers from mechanized units and 150 Special Forces soldiers are involved in the operation," Turkish Hurriyet newspaper reports. The ground forces are also accompanied by tanks and air support.
The Turkish leader has meanwhile warned that the operation in Syria would continue until terrorists are defeated, naming Kurdish forces as well.
"We will fight against the Islamic State terrorist group in Syria's Jarabulus, Iraq's Bashiqa and, if it is necessary, in other places. We are equally resolute regarding Kurdish Democratic Union Party (PYD). Our operation in northern Syria will continue until we eradicate the roots of this separatist terrorist organization," Erdogan said.
The current Turkish operation in Syria has been slammed by Damascus as a "blatant violation of sovereignty." Following the intrusion, the Russian Foreign Ministry also said it was "deeply worried" about the latest development.


You can share this story on social media: