Japan holds live-fire drills near Mount Fuji day after N. Korean missile test (VIDEO)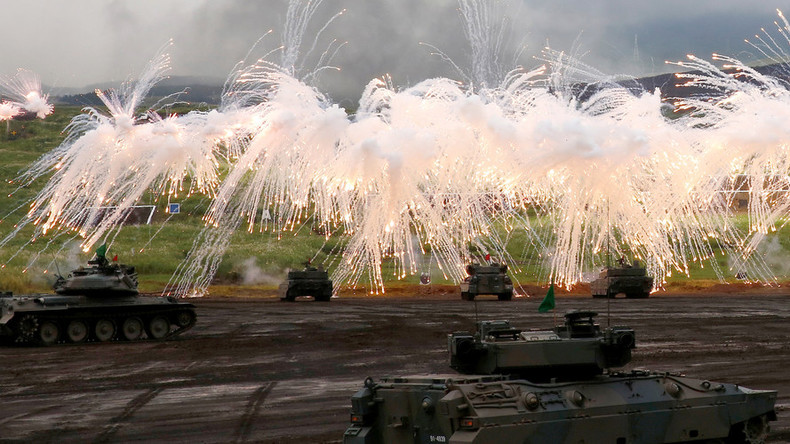 Tanks, artillery and hundreds of troops took part in Japanese Self Defense Forces (SDF) live-fire drills near Mount Fuji on Thursday. The exercises took place a day after North Korea announced a successful submarine-launched ballistic missile test.
Around 2,400 soldiers, tanks, field guns and helicopters were deployed at the Higashi-Fuji firing range in Gotemba, some 80km west of Tokyo, AFP reported.
The drills in the foothills of Mount Fuji are held annually, but this year they coincided with a North Korean missile test, which was labeled the "greatest success" by Pyongyang.
Japan's defense minister, Tomomi Inada, has slammed the launch, which came from a submarine just 500km from Japanese territory.
"We are very concerned about the SLBM launch yesterday, as the North Korean move is a grave and imminent threat not only to Japan's security but also to the region and global society," Inada said at a meeting with her Australian counterpart, Marise Payne.
Tensions in the region have been escalating since the start of the year, when Pyongyang conducted nuclear and ballistic missile tests in violation of UN resolutions.
The situation has heated up further amid a recent decision by the US to deploy sophisticated nuclear-capable bombers to its base in Guam, located in the Western Pacific, and the announcement of the deployment of THAAD missile systems to South Korea.
On Monday, South Korea and the US began their annual two-week Ulchi Freedom Guardian (UFG) military exercise, which involve around 50,000 Korean and 30,000 US soldiers.
READ MORE: N. Korea threatens US with 'nuclear hammers of justice' after missile test
Pyongyang has called the military exercises a rehearsal for an actual attack on the country, describing the drills as "a clear manifestation of a vicious plot" not only to conduct nuclear strikes, but to "enslave" North Korea.