N. Korea launches ballistic missile from submarine amid US-Seoul drills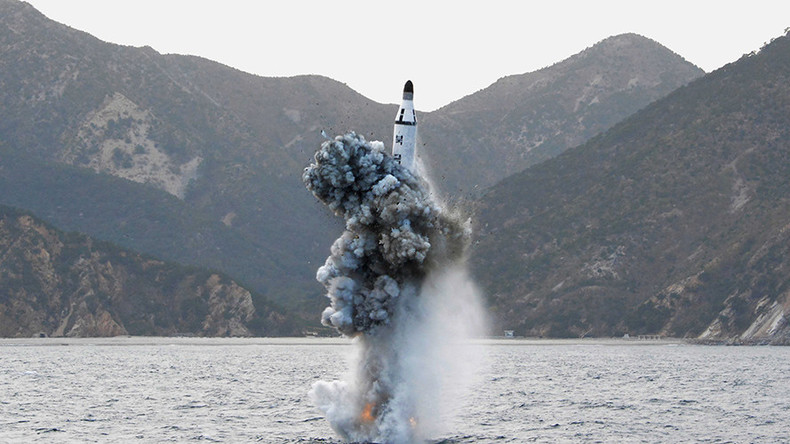 A North Korean submarine has test-launched a ballistic missile in the East China Sea, South Korea's Yonhap news agency reported. It comes amid US-Korean military drills that Pyongyang has called a "threat."
READ MORE: Seoul holds largest-ever artillery drills to discourage Pyongyang's potential provocations
The missile was reportedly launched off the North's eastern coast, according to Yonhap.
The missile traveled several hundred kilometers in the air before falling into the Sea of Japan, Japan's national public broadcaster NHK reported, citing the Japanese military.
The US said that the North Korean missile traveled around 480 kilometers (300 miles), Reuters quoted a US defense official as saying. "This was likely a KN-11 ballistic missile," the official added, stating that the US had detected and tracked the submarine-launched missile.
Japan reacted to the North Korean missile launch with a protest, saying the missile posed a "threat" to its security.
"This poses a grave threat to Japan's security, and is an unforgivable act that damages regional peace and stability markedly," Japanese Prime Minister Shinzo Abe told the media.
Earlier, North Korea called for an emergency meeting of the UN Security Council, citing a "unprecedentedly unstable" situation on the Korean Peninsula due to the recent announced deployment of THAAD missile systems and "introduction of nuclear strategic bombers" to South Korea.
The already inflamed situation has been aggravated by the start of the joined US-South Korea military drills, which are "creating a danger of war" read a letter penned by Jan Song Nam, the country's ambassador to the UN.
The North warned that "peace, security and relaxation of tension on the Korean Peninsula and in the region cannot be thinkable unless the US-South Korea aggressive joint military exercises are totally halted."
The Ulchi Freedom Guardian (UFG) military drills kicked off Monday and are set to last 12 days. Around 50,000 Korean and 25,000 American soldiers will participate in the exercises, that reportedly involve training for an invasion operation. However, both countries insist the drills are of a purely defensive nature.
Tensions on the Korean peninsula have been escalating since the beginning of this year, as North Korea conducted nuclear and ballistic missile tests in violation of UN resolutions.
The situation has heated up amid Washington's recent decision to deploy sophisticated nuclear-capable bombers to its base in Guam, located in the Western Pacific and announcement of deployment of THAAD missile systems to South Korea.
READ MORE: US flies all 3 types of bombers in 'strategic power projection' stunt over Guam (PHOTOS, VIDEO)
Pyongyang has called US joint military exercises with South Korea a rehearsal for an actual attack on the country, describing the drills as "a clear manifestation of a vicious plot" not only to conduct nuclear strikes but to "enslave" North Koreans.
Just this Monday, South Korea and the US began their annual two-week Ulchi Freedom Guardian (UFG) military exercise, which involve around 50,000 Korean and 30,000 US soldiers.
In response, General Staff of the North Korean People's Army (KPA) has issued a loud warning against any dangerous provocations that could lead to a "nuclear war."