Pyongyang threatens US & Seoul with 'Korean-style preemptive retaliatory nuclear strike'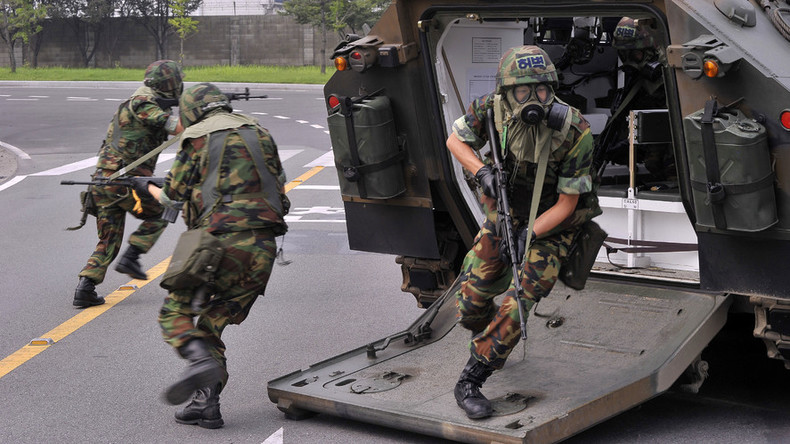 North Korea has once again warned the "US imperialists and the South Korean puppet" against staging any provocations and threatened a "preemptive retaliatory strike," should the US-led war drills threaten Pyongyang's sovereignty.
READ MORE: Seoul holds largest-ever artillery drills to discourage Pyongyang's potential provocations
South Korea and the United States kicked off the annual two-week Ulchi Freedom Guardian (UFG) military exercise on Monday involving around 50,000 Korean and 30,000 US soldiers. Fearing that US has been planning to mount a surprise nuclear attack on North Korea during a joint military exercise, General Staff of the Korean People's Army (KPA) has issued a loud warning against any dangerous provocations that could lead to a "nuclear war".
Read more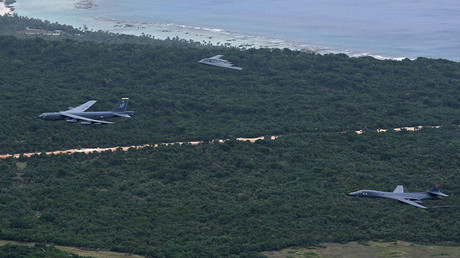 "The first-strike combined units of the KPA keep themselves fully ready to mount a preemptive retaliatory strike at all enemy attack groups involved in Ulchi Freedom Guardian," Pyongyang's Korean Central News, Agency ( KCNA ) said.
"The nuclear warmongers should bear in mind that if they show the slightest sign of aggression on the inviolable land, seas and air where the sovereignty of the DPRK is exercised, it would turn the stronghold of provocation into a heap of ashes through Korean-style preemptive nuclear strike," the statement added.
Tensions on the Korean peninsula continue to escalate since the ongoing nuclear and ballistic missile tests which the North has continued to conduct this year in violation of UN resolutions. The belligerent rhetoric was exacerbated further following Washington's recent decision to deploy sophisticated nuclear-capable bombers to its base in Guam and the announced deployment of THAAD missile systems to South Korea.
Over the years, Pyongyang has constantly dubbed the joint military exercises as a rehearsal for an actual attack on the country. The latest statement did just the same, calling the drills "a clear manifestation of a vicious plot" not only to conduct nuclear strikes but to enslave North Koreans.
Meanwhile, the South Korean government warned its citizens of a possible provocation from the North.
READ MORE: North Korea restarts plutonium production – Japanese media
Ulchi Freedom Guardian is designed to train combat soldiers of both countries for a full-scale invasion scenario. Seoul and Washington insist that the drills are purely defensive in nature.