We can't do without joint European army – Czech PM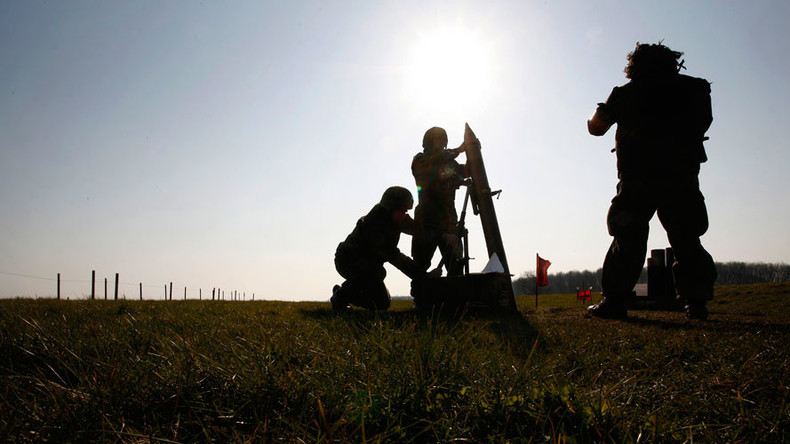 The creation of a joint EU army is inevitable, Czech Prime Minister Sobotka told a gathering of Czech diplomats in Prague, citing terrorism, the migrant influx, and a "new aggressive Russia" as the main reasons a NATO-like military structure is needed.
The migrant issue is the key reason for introducing an EU army, according to comments PM Bohuslav Sobotka made on Monday during an annual address at Czech Foreign Ministry headquarters.
"In the face of uncontrolled migration, even states in the center of Europe have realized that internal borders must be controlled… aside from better coordinated foreign and security policy, I also believe that in the long term, we will be unable to do without a joint European army," he said, as cited by Radio Praha.
Sobotka returned to the issue of migration on Tuesday, saying that each EU member should be able to choose how many refugees to accept.
"We don't want a large Muslim community to form here, given the problems we're seeing," Sobotka told Pravo daily.
An EU joint army would not rival NATO, but rather make the EU a "more actionable and reliable partner," the Czech prime minister said.
Sobotka's call for a pan-European army sparked negative backlash from all across the Czech political spectrum, with Czech General Petr Pavel, who has served as Chairman of the NATO Military Committee since 2015, describing his idea as "utopian," according to Radio Praha.
The idea of a joint European army publicly emerged about half a year ago.
In early March, European Commission President Jean-Claude Juncker called for the creation of an "EU joint army" that would "react credibly" to any external threat and defend the bloc's "values."
"An army like this would help us to better coordinate our foreign and defense policies, and to collectively take on Europe's responsibilities in the world," he said in an interview with Germany's Welt am Sonntag newspaper.
The proposal was supported in Germany, where Defense Minister Ursula von der Leyen told Deutschlandfunk radio that a "European army is the future" when commenting on Juncker's statement.
NATO's secretary-general, Jens Stoltenberg, has urged the EU to avoid duplication and "make sure that everything they do is complementary to the NATO alliance."
READ MORE: NATO not amused by EU plan to create separate army
German plans to create an EU military HQ and pool European resources for such a force caused quite a stir in Great Britain when they first came to light.
"What is needed is a far greater European commitment to NATO, not the creation of a military establishment within a dysfunctional European Union," former British Foreign Secretary Lord Owen told the Times, warning that Germany's "dangerous fantasy" could see the US withdraw funding from NATO.
Another step towards the creation of a European army was revealed in May, when the British newspaper the Times reported that a document drawn up by EU foreign policy chief Federica Mogherini contained plans to set up a new European military and operational structure, including a headquarters, through provisions laid out in NATO's 2009 Lisbon Treaty.
At the time, Prime Minister David Cameron's government flatly stated that the UK would never become part of an EU army, the Daily Mail reported.
"We will never be part of an EU army," a government spokesperson corroborated.
Federica Mogherini's document was set to be discussed by European leaders at a June 28 summit, but in June the European Commission said there were no plans to propose an EU army.
READ MORE: EU army plans 'kept secret' from British voters until after Brexit referendum