​European Commission chief urges 'joint EU army,' Germany backs decision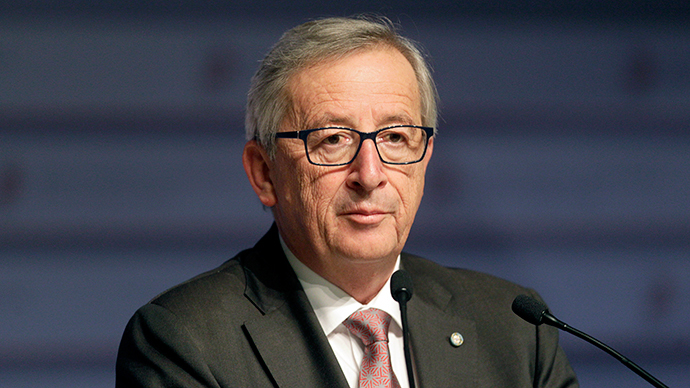 The EC chief has called for an "EU joint army" that would "react credibly" to any external threat and defend the bloc's "values." While the UK and France are wary it could undermine NATO, Germany has backed the idea.
"An army like this would help us to better coordinate our foreign and defense policies, and to collectively take on Europe's responsibilities in the world," the European Commission President Jean-Claude Juncker said in an interview to Germany's Welt am Sonntag newspaper.
He added the EU's image "has suffered dramatically and also in terms of foreign policy, we don't seem to be taken entirely seriously."
"A joint EU army would show the world that there would never again be a war between EU countries," Juncker said.
READ MORE: 'Give peace a chance, decide sanctions later': EU split over extension, new Russia penalties
With a joint EU army, the bloc could "react more credibly to the threat to peace in a member state or in a neighboring state."
"You would not create a European army to use it immediately," Juncker said. "But a common army among the Europeans would convey to Russia that we are serious about defending the values of the European Union."
Juncker's proposal has been supported in Germany, where last month Defense Minister Ursula von der Leyen also spoke of an EU army, calling it the main goal for the bloc.
In her comment on Juncker's proposal, she told Deutschlandfunk radio station that a "European army is the future."
Chairman of the Bundestag's Committee on Foreign Affairs, Norbert Rottgen has also told the Welt that "a joint army is a European vision whose time has come."
"The European countries spend enormous sums on the military, many times more in total when compared to Russia. Yet our military capabilities remain unsatisfactory from a security standpoint," he said. "And they will for as long as we're talking about national mini-armies, which are often doing and purchasing the same things in their minor formats."
READ MORE: EU won't be pushed into confrontation over Ukraine – foreign policy chief
According to Hans-Peter Bartels, the chairman of the Defense Committee of the Bundestag, "the past 10 years have added little to Europe's defense. It needs a boost."
"It is important that we now swiftly implement concrete measures. We should not wait for an overall concept of all 28 EU members, but start with agreements between the nation states," he added.
However, Juncker's idea of an EU Army is a concern for some of the bloc's members, particularly France and the UK. They are wary of granting a bigger military role to the EU as it could undermine NATO.
Meanwhile, former NATO Secretary General Javier Solana is planning to present a report called "More Union in European Defense." It urges the creation of a new method for EU protection, which would have "a political and military ability to autonomously conduct intervention operations beyond the EU's borders." He also proposes to establish an EU military HQ in Brussels.
In the meantime, senior Russian lawmaker Leonid Slutsky said the EU is paranoid about Russia.
"The European version of paranoia: declaring the establishment of a unified army to counterbalance Russia, which does not intend to go to war with anyone," he wrote on his Twitter page.
The "military" ambitions of the EC chief come right after the EU's Foreign Policy Chief Federica Mogherini stressed that Europe has a realistic view of Russian events, but it "will never be trapped or forced or pushed or pulled into a confrontative [sic] attitude" towards Moscow.
On Saturday, the German newspaper Der Spiegel revealed that Berlin had slammed comments by NATO European Commander General Philip Breedlove on Ukraine as 'dangerous propaganda,' which put the West at risk of losing credibility.
You can share this story on social media: