'Give peace a chance, decide sanctions later': EU split over extension, new Russia penalties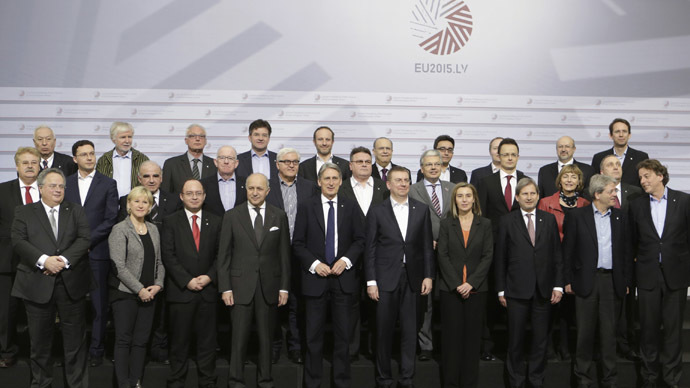 The latest EU meeting has shown that many of its members are in no rush to extend the sanctions which were imposed on Russia last year following a US example, or to exert any more pressure on Moscow, as long as the Minsk ceasefire agreement is holding.
Most foreign ministers at the EU two-day meeting in the Latvian capital expressed hopes that the latest Minsk agreement would be a success, and there would be no need to impose further sanctions on Russia. The meeting had a format of an informal discussion, where the ministers touched the topics of the Minsk agreements and the OSCE mission in Ukraine, as well as the possible stepping up of pressure on Russia to "promote peace."
READ MORE:Ceasefire violations on decline in E. Ukraine – OSCE
Scheduled ten days before an official summit in Brussels, the meeting has shown that the EU can't yet agree even on the automatic extension of existing sanctions – a move that some of the hawkish states have been actively promoting.
"In my opinion, we must not make any other steps, we have to give peace a chance. The extension could take place, but only if there is no improvement of the situation," Spanish FM Jose Manuel Garcia-Margallo said, expressing his views after the meeting , according to Russian news agency RIA Novosti. The Spanish FM is heading to Moscow, during which he will not only discuss the Ukrainian crisis, but will also meet with the Russian Energy minister.
.@PHammondMP with EU foreign ministers at #Gymnich in #Riga ahead of discussion on #Russia & #Ukraine this afternoon pic.twitter.com/Vbz2MXB1MA

— Foreign Office (FCO) (@foreignoffice) March 6, 2015
Meanwhile, Italian FM Paolo Gentiloni told reporters the he sees "encouraging signals" on the ground in eastern Ukraine, and so "at the moment we don't need either new sanctions or automatic renewals."
Austrian Foreign Minister Sebastian Kurz shared the views of his Italian counterpart, saying that there is a "glimpse of hope" following the Minsk agreements: "We should do everything now to improve the situation and decide later whether that improvement really happened and we can reduce the sanctions, or, if we have to, extend them," Kurz said.
READ MORE:No sanctions would ever force Russia into changing its policy - Kremlin
Greece has also spoke out against any new sanctions as long as Russia supports the Minsk agreements, with Greek Foreign Minister Nikos Kotzias saying the Greek experience suggests that "not every sanction is constructive" and can succeed. "We support sanctions that bring the other side to the negotiation table," Kotzias told German ARD. "But we are against sanctions that are imposed simply because someone is angry."
#EU 's Foreign Ministers Informal Meeting in Riga. Here working session in National Library building @eu2015lvpic.twitter.com/AhFJhM7DFj

— Marcin Wojciechowski (@maw75) March 6, 2015
The German position was short-spoken and clear: "This depends on the implementation of the Minsk accord," German Foreign Minister Frank-Walter Steinmeier said, as cited by France 24.
READ MORE: 'Non-lethal gifts & training': UK, Poland offer support to Ukrainian army
Last year, the European Union followed the line of the United States, imposing sanctions on Russia in several separate rounds, but it later found them to cause increasing difficulties for its own constituent economies, which rely heavily on Russian energy supplies.
The EU hesitated to impose sectorial sanctions against Russia's financial, defense and energy sectors until the downing of Malaysian jetliner in Ukrainian airspace midsummer last year.
The key decision on whether to prolong sanctions – which requires unanimity – will likely be postponed until closer to mid-summer; a period when they also came into force last year.
Britain, Poland, Sweden and the Baltic states don't share the other European countries' optimism.
For instance, Lithuanian Foreign Minister Linas Linkevicius insisted that "the least" EU must do is extend sanctions until the end of the year. Such views were shared by his Belgian counterpart Didier Reynders, who called for maintaining "unity within the EU" and "continuing pressure so that things change on the ground."
Polish Foreign Minister Grzegorz Schetyna threatened that if Moscow "does not change its policy, sanctions will be toughened and they will make themselves felt even more in Russia."
"All the European countries are speaking with one voice, together with Australia, the United States and Canada. The free world says 'no' to this kind of policy," he claimed in the interview with Polish broadcast Polsat News. "The Polish viewpoint is shared by other countries."
READ MORE: 'Not the time for business as usual with Russia' – US presses EU
But besides the facade of hawkish rhetoric, Poland has been asking Russia's veterinary and phytosanitary watchdog for cooperation.
"On one hand, our Polish colleagues, along with the Lithuanians, have been criticizing us and saying they don't need any bilateral agreements, but on the other – they contacted us suggesting a working group on veterinary and phytosanitary control," said Rosselkhoznadzor's chief Sergey Dankvert, cited by TASS.
Earlier in March Greece sent a similar letter, asking for a seminar on safety requirements for different types of food products, so that Greek products could "immediately reach the Russian market," once the sanctions are lifted.
French Foreign Minister Laurent Fabius reflected on the ongoing debate in the 28-nation EU, admitting that some of its nations demand that the bloc announces the extension as soon as possible. "Others say it would be a bit contradictory to say: On the one hand, Minsk is being applied and on the other hand we are going to go [extend sanctions] until the end of year," he explained. "If Minsk develops positively, then it is likely that nothing new will be done on sanctions."
READ MORE: EU won't be pushed into confrontation over Ukraine – foreign policy chief
Meanwhile EU foreign policy chief Federica Mogherini said in order for the sanction to be lifted "something really good" should happen on the ground, the union is on the other hand is "always ready to increase the pressure if needed," France 24 reported.
The Minsk agreement, signed on February 12, has held in the vast majority of the war-torn country with the number of ceasefire violations that have plagued the pact dropping, according to OSCE.
Since Kiev sent its military to suppress the regions in April 2014 after people there refused to recognize the new coup-imposed authorities in the capital, at least 6,000 people have been killed in southeastern Ukraine according to UN Human Rights Office estimates.
You can share this story on social media: