Facebook to impose ads on ad-blocking users 'out of principle'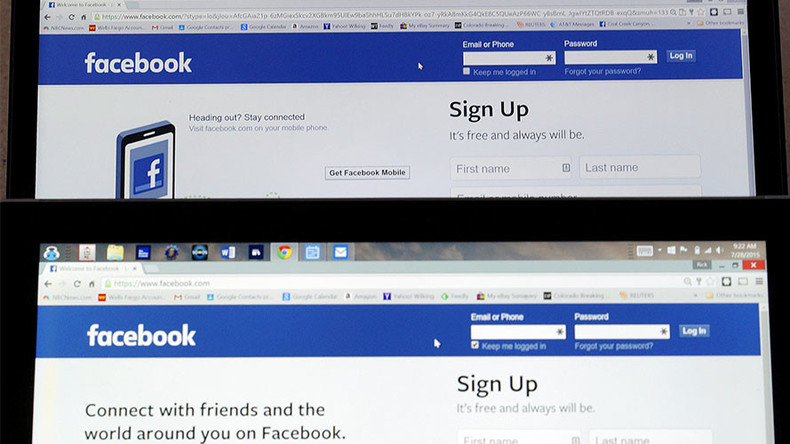 Facebook will force ads on all of its users, including those who use ad-blocking programs to avoid them, by changing the way ads are loaded into its desktop website, the company said, claiming it is doing so more out of principle than for profit.
The social media giant will make advertisements indistinguishable from other content on its desktop website by removing the signifiers in digital ads that ad blockers detect.
Facebook believes that such a move will force ad blockers to resort to analyzing the content of ads and other materials posted on Facebook, which is a too costly and laborious process, ultimately meaning that the company will now freely deliver ads to its users despite their efforts to avoid them.
Andrew "Boz" Bosworth, Facebook's vice president of engineering for advertising and pages, stressed in a statement that Facebook is a free service "and ads support our mission of giving people the power to share and making the world more open and connected."
In the meantime, the move is not expected to boost Facebook's ad revenues much, as, according to the company's 2016 second quarter earnings report, 84 percent of its advertising revenues are garnered from mobile devices, which are subjected to ad blocking to a lesser extent than the desktop website.
In its report, Facebook also says that its "ad load" – the number of ads a user typically sees – is "in a good zone," meaning that there is not much space left for new ads to be added to those that users already see.
"This isn't motivated by inventory; it's not an opportunity for Facebook from that perspective. We are doing it more for the principle of the thing. We want to help lead the discussion on this," Bosworth said, as quoted by Wall Street Journal.
He also noted that ad blockers are "certainly bad for the publications who are robbed of half of the value exchange between users and publishers," as reported by the New York Times.
At the same time, Facebook plans to make ads more personalized and relevant by giving users more control over which ones they see. To this end, the company is introducing an overhauled version of its ad preferences tool, which allows people to choose what kinds of ads they want to see.
"I don't think the all or nothing approach that ad blockers end up taking is really the best way forward," Bosworth said, as quoted by the USA Today. "Our approach is to find a middle ground. So instead of all or nothing, we want to partner with consumers through tools like ad preferences that allow them to work with us to see ads that are more relevant to their interests and that don't interrupt their experience."
Some critics say that the social network is just bowing to the demands of its largest advertisers, from which the company reaps the majority of its profits, as the vast majority of Facebook's revenues come from paid advertising.
On the other hand, the move was praised by the Interactive Advertising Bureau (IAB), an organization that develops industry standards and provides legal support for online advertising.
"Facebook should be applauded for its leadership on preserving a vibrant value exchange with its users," Randall Rothenberg, president and chief executive of the IAB, said in a statement, as quoted by the NY Times.
"For hundreds of years, advertising and marketing have been central to the delivery of entertainment and services that are otherwise free to consumers," he added.
Meanwhile, the use of ad-blocking programs is on the rise. About 200 million people use such software on their PCs worldwide, according to estimates provided by PageFair, an anti-ad-blocking start-up. An additional 420 million use ad blockers on their smartphones.
The number of people using ad blockers in the US increased by 35 percent in 2016, reaching almost 70 million people, according to the eMarketer research firm, which said that these figures are expected to rise by another 24 percent, to almost 90 million people, in 2017.
Facebook admitted in its 2016 quarterly report that ad blocking is a threat. "Revenue generated from the display of ads on personal computers has been impacted by these technologies from time to time," Facebook said in the filing. "As a result, these technologies have had an adverse effect on our financial results and, if such technologies continue to proliferate, in particular with respect to mobile platforms, our future financial results may be harmed."
The rise in the use of ad blocking programs signifies a growing backlash from users who are tired of disruptive ads that obscure content, cause pages to load slowly, drain batteries, consume too much mobile data, or pose risks to security or privacy.
Some 69 percent of users use ad blockers to avoid disruptive ads, while 58 percent do so because advertising slows down their browsers and 56 percent fear security and malware risks from ads, a study conducted for Facebook by Ipsos Connect found.
At the same time, publishers and advertisers complain that such programs lead to declining advertising revenues, costing them billions of dollars in losses per year. The New York Times and Wall Street Journal said their ad revenues had fallen due to ad blockers, and some digital publishers such as Wired, Forbes, and The Times have even resorted using anti-ad-blocking programs.
You can share this story on social media: